MSI puts its X38 boards online
One day before the launch.
Published Tue, Oct 9 2007 3:01 AM CDT
|
Updated Tue, Nov 3 2020 12:38 PM CST
Tomorrow is the big day, Intel is finally launching the X38 chipset and some motherboard manufactures have already seeded journalists with review samples and many have already put their product information up on their websites. MSI has finally, if you can call it finally since the products haven't even launched yet, put its X38 boards up and although we knew about the X38 Diamond, we didn't expect the X38 Platinum.
While you're having a look at the pictures below, try to find out what the difference between the two is, it's not that easy to spot. Both boards feature the new Circu-Pipe cooler which has been specifically designed for the X38 chipset and as you might have noticed, these boards also have an extra chip below the ICH9R.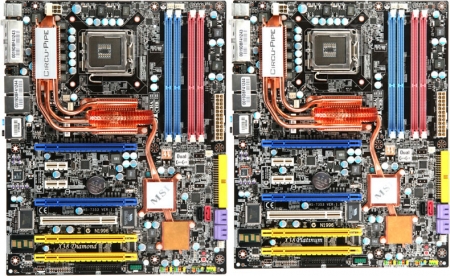 Click to enlarge
This chip is similar to the one Asus use on its R.O.G. Blitz and soon to come Maximus Extreme boards and it switches bandwidth from the first pair of x16 PCI Express connectors to the second pair. There are four memory slots for up to 8GB of 1,333MHz DDR3 memory and the board supports Intel's upcoming Yorkfield and Wolfdale cores. Other features include six SATA connectors, two eSATA, one IDE connector, eight rear USB 2.0 ports, FireWire, 7.1-channel audio with S/PDIF out and a handy rear mounted CMOS reset button.
MSI has a new post LED display with four digits/letters on these boards as well and the boards also have dual Gigabit Ethernet. So did you spot the difference? It's the audio chipset used, as the Platinum has the Realtek ALC888 while the Diamond version has the ALC888T. The difference is that the Diamond version can be used with what MSI calls SkyTel, an add-on card which allows you to use your normal phone to make and receive Skype calls with. The Diamond version also shops with a PCI Express X-Fi Xtreme sound card. Both boards comes with a handy eSATA to SATA cable as well.
You can find the X38 Diamond
here
and the X38 Platinum
here