MCC's new Halo 20th anniversary content takes us back to Macworld 1999
343i goes all out to celebrate Halo's 20th birthday, adds in a ton of old-school content to Halo Master Chief Collection.

Published Wed, Nov 3 2021 6:46 PM CDT
|
Updated Tue, Nov 30 2021 9:27 PM CST
343i is injecting a ton of old-school nostalgia into Master Chief Collection to celebrate 20 years of Halo and Xbox.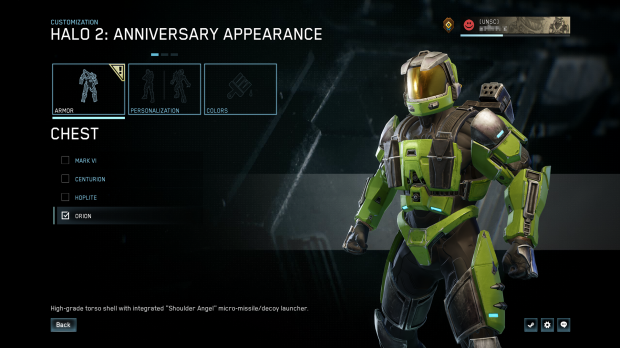 Today 343i announced its big plans for 20 years of Halo, which actually takes us all the way back to Macworld 1999 with the first old-school Master Chief skin. The developers are rolling out a bunch of new content skins that chronicle two decades of evolved combat.
First up we have the Orion skin, which was the first armor featured in the Macworld presentation back in 1999. Chief looked a lot different here and it's awesome we can actually use this skin...but only in Halo 2 multiplayer. Other skins include hilarious additions like an OG Xbox "The Beast" that can be attached to your back, or the oversized Duke controller for shoulder pauldrons (I still contend this is the best Xbox controller ever made).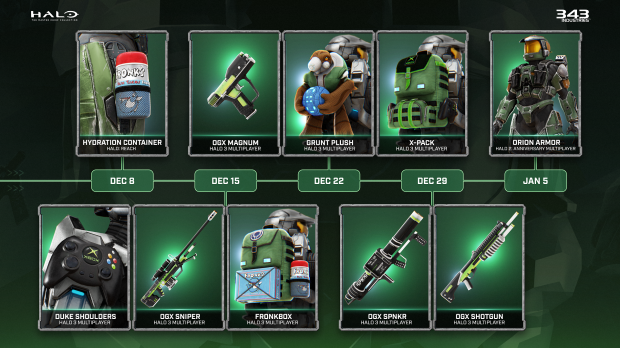 The other stuff is hit-or-miss. There's a comical Halo Reach attachment (Fronk's!), a grunt plush, and more. Check below for the full list.
November 3, 2021: "Orion" Armor Set (Helmet, Chest, Shoulders, Arms, Legs) for Halo 2: Anniversary

November 10, 2021: The Beast Back Accessory and Duke Shoulders for Halo 3

November 17, 2021: OG Xbox Assault Rifle Skin for Halo 3

November 24, 2021: Semi-Powered Infiltration "Mirage" Armor (Helmet, Chest, Shoulders, Arms, Legs) for Halo 3

December 1, 2021: OG Xbox Battle Rifle Skin and Rucksack Back Accessory for Halo 3

December 8, 2021: Hydration Container Utility Item for Halo: Reach

December 15, 2021: Fronkbox Back Accessory, Duke Shoulders, and OG Xbox Sniper Rifle skin for Halo 3

December 22, 2021: Grunt Plush and X-Pack Back Accessories and the OG Xbox Magnum Skin for Halo 3

December 29, 2021: OG Xbox Shotgun and SPNKr Skin for Halo 3

January 5, 2022: The first return of the "Orion" armor set for Halo 2: Anniversary
Related Tags