SideWinder gaming mouse from Microsoft
LCD, weights and more.
Published Thu, Aug 23 2007 1:24 AM CDT
|
Updated Tue, Nov 3 2020 12:39 PM CST
If you've been playing with computers for as long as we have, then you might remember the Microsoft SideWinder range of gaming peripherals from the mid 90's. Well, SideWinder is back and Microsoft has launched a new gaming mouse as the first product in the revived brand.
Microsoft has pulled out all the stops in terms of the marketing campaign for the new SideWinder mouse. There's a dedicated website which you can find
here
, called the Site of Champions. But what really matters is the hardware, at least if Microsoft intends to sell any of the new mice.
Luckily it looks like Microsoft has done their homework and this one will give Logitech a run for their money. If this or the Logitech G9 will be your choice is a difficult matter, since they're both very similar and very different. For starters, this is the first Microsoft mouse to incorporate adjustable weights, but Microsoft hasn't taken it as far as Logitech, as you're limited to 5 and 10 gram weights with a maximum of 30g.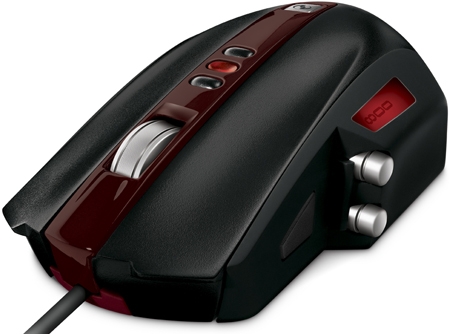 However, Microsoft has taken things one step further with the SideWinder mouse, by adding removable feet and by supplying three different kinds of feet with different glide depending on the surface. Another interesting feature is the 180 degree turn macro feature, which makes you turn around quickly in first person shooters, something that can save valuable time, but also something that could be considered cheating.
The SideWinder mouse also supports 2,000 DPI and it does of course have a laser sensor. For some odd reason Microsoft has added three DPI switches, which makes us believe that you can only program in three different settings, which doesn't compete with Logitech's five. Where Microsoft scores another point is by having a built in LCD display, although we wonder how useful this really is as it displays the DPI setting as well as some macro information. We'll see once the mouse becomes available how well this works.
A cool feature is the fact that Microsoft has made the container for the weights double up as a cable management system, something that we particularly like, since the cartridge container for our G5 mouse is just collecting dust. The rather odd design threw us as well, but we like the metal scroll wheel, which again looks like something Microsoft has borrowed from Logitech. The mouse has been designed for Windows Vista and it has a quick launch button that starts the Games Explorer.
The SideWinder mouse should be available in October for an estimated retail price of US$79.99, which makes it cheaper than the new Logitech G9 mouse.
You can find the official website
here