A Korean company called SavitMicro has launched an interesting device, it's a NAS and HD video player in one. It's called the cineDISK CD36HD and its one of the most feature packed devices of this type we've ever seen. Not only is it a NAS (it's actually a
NDAS
devices), although it only has 10/100Mbit Ethernet, it can also connect to your PC via USB 2.0 for some faster file transfers and it has two USB 2.0 host ports for external drives. There's also a version available with 802.11b/g Wi-Fi.
So far it's not that remarkable, as there are plenty of devices like this on the market already. What sets the cineDISK CD36HD apart from every other such device is the fact that it connects up to your TV. Around the back you'll find DVI-D, Component video, S-Video and composite video outputs. It supports up to 1080p resolution, but there's no mention of HDCP support. It has a set of stereo RCA jacks, an optical and coaxial S/PDIF and finally even analogue 5.1-channel RCA jacks. Pretty impressive to say the least.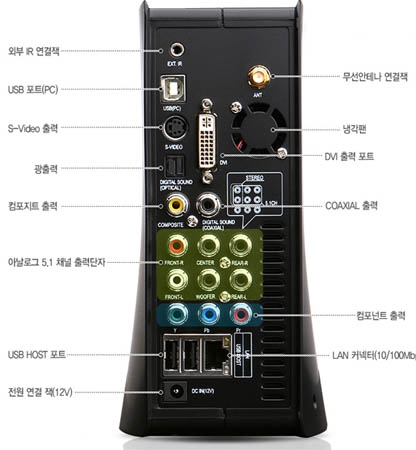 It will play just about every video format out there as well, as it supports WMV9, WMV HD, DivX (although not DivX 6.x), Xvid, MPEG1/2 and it will even play from ISO and VOB images. It supports SMI, SUB and SRT subtitles files as well. Supported audio formats consist of MP3, OGG, WMA and it does of course have support for AC3 and DTS. It will also display JPEG and PNG images and you can plug your digital camera straight into it.
It will also stream video, audio and pictures from your PC to your TV, so if you run out of disk space on the player, you can still watch content from your PC. The cineDISK CD36HD has space for a single SATA drive and it slots in neatly in a slot at the bottom. The only downside would be the fact that it uses an external 12V brick, but I guess you can't have it all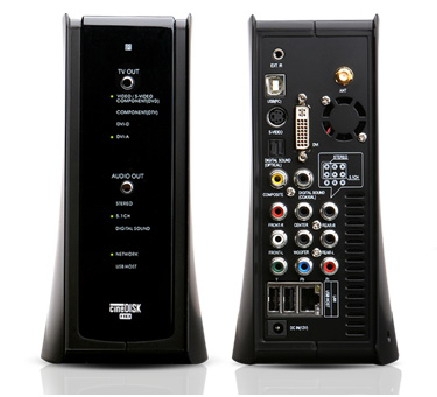 We have no idea what it's going to cost or even if it'll be available outside of Korea, but SavitMicro has an English website, which is always a good sign. You can find more info in English
here
and a lot more info and nicer pictures in Korean
here