Conroe based Celerons On The Way?
Even more bang for buck!
Published
1 minute & 5 seconds read time
The lads over at InsideHW have recently been handed a mysterious Intel based processor, which when firing up CPU-Z reported it to be a "Celeron" branded offering derived from the Conroe-L core. This simply indicates we will soon be seeing nice and cheap Conroe based Celeron processors enter the market.
The sample InsideHW were given was in fact an engineering sample, allowing the multiplier to go up to 14.
Some details about the processor. It's a single-core chip with 1MB of L2 cache, is based on a 65nm fab and runs a bus speed equal to that of the Pentium E2000 series, 200MHz (800Mhz Quad-pumped). InsideHw have a guess and say that it's likely this upcoming family of chips will be dubbed the "Celeron E1XXX" series or something like that.
Unfortunately there arnt any overclocking results on it yet, lets hope its a real gem in this department.
for the full scoop on this mysterious new chip,
head over to their website
.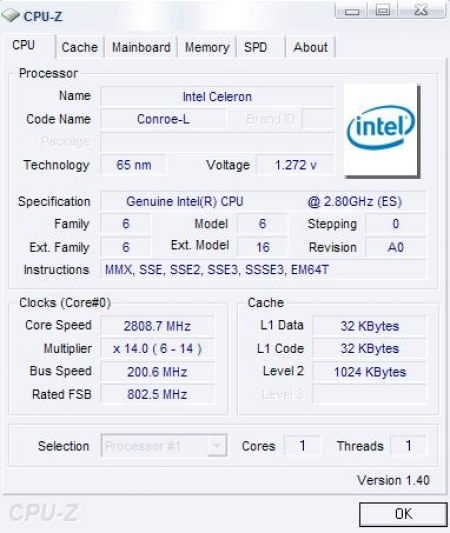 The FSB is identical with the one on the Pentium E2000 series - 200 MHz (800 MHz Quad-Pumped). Now it's already clear that wherever there's a Pentium there must be a Celeron. With all the listed information it only seems logical that we're dealing with a certain soon-to-be Celeron processor based on Core technology. What the name of this series will be is unknown to this point, but we suppose that they will be marked "Celeron E1XXX" or perhaps belong to the 4XX series of CPUs that already made quite a fuss. This Intel move also marks complete retirement of the NetBurst technology through complete "refreshment" of the offer.