Cyberpunk 2077 is right around the corner, with CD PROJEKT RED detailing the pre-load times for gamers across the world.
If you are playing Cyberpunk 2077 on the PC then you will be able to pre-load the game earlier if you ordered the game from GOG -- on December 7 at 3AM PST (6AM EST, 11AM GMT). Steam players will have their pre-loads begin on the same day, but later at 9AM PST, 11AM EST, 4PM GMT.
Xbox gamers can pre-load now, while PlayStation pre-loads start "two days prior to the release date".
Cyberpunk 2077 unlock times worldwide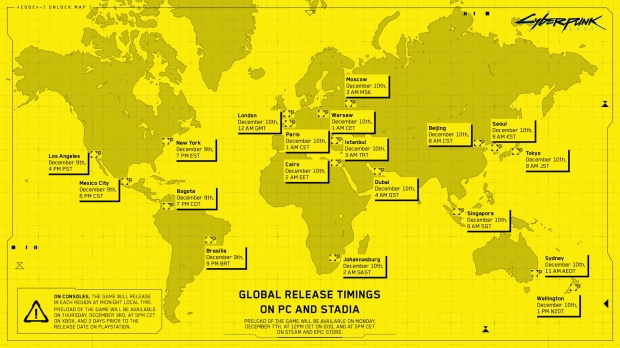 Los Angeles, Dec. 9, 4pm PST

Mexico City, Dec. 9, 6pm CST

New York, Dec. 9, 7pm EST

Bogota, Dec. 9, 7pm COT

Brasilia, Dec. 9, 9pm BRT

London, Dec. 10, 12am GMT

Paris, Dec. 10, 1am CET

Cairo, Dec. 10, 2am EET

Johannesburg, Dec. 10, 2am SAST

Warsaw, Dec. 10, 1am CET

Istanbul, Dec. 10, 3am TRT

Moscow, Dec. 10, 3am MSK

Dubai, Dec. 10, 4am GST

Beijing, Dec. 10, 8am CST

Singapore, Dec. 10, 8am SGT

Seoul, Dec. 10, 9am KST

Tokyo, Dec. 10, 9 am JST

Sydney, Dec. 10, 11am AEDT

Wellington, Dec. 10, 1pm NZDT