NVIDIA's new GeForce RTX 3090, RTX 3080, RTX 3070: 7nm node, not 8nm
GAINWARD's new GeForce RTX 30 series Phoenix Edition graphics card specs leak detail 7nm node, not 8nm like previous rumors.
Published
1 minute & 29 seconds read time
It has been an absolutely insane 24 hours for leaks on NVIDIA's next-gen Ampere-based GeForce RTX 30 series graphics cards -- so much so that I can't even keep up and I'm glued to my desk nearly 18 hours a day.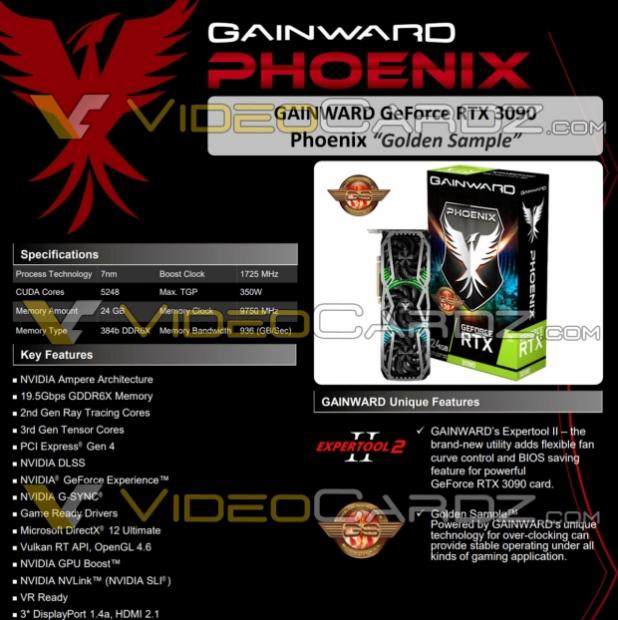 Well, thankfully it pays off sometimes like seeing VideoCardz posting GAINWARD's leaked GeForce RTX 30 series Phoenix-branded graphics cards. In the specifications you can see above, it lists that the process node is 7nm -- not the 8nm that we've been hearing for a couple of months now.
This is an interesting note, and something that might just seem like a number -- but a simple change from 8nm to 7nm can mean the world. It opens up various questions that need to be answered: were the 8nm rumors ever true, or has NVIDIA used Samsung's 7nm for its first wave of cards?
Samsung began work on a new 7nm plant in South Korea in February 2018, which was meant to mass producing 7nm chips by 2019.
It was reported that TSMC would handle most of NVIDIA's new 7nm GPU production, and that Samsung woulod only handle a small portion of it -- this happened in December 2019.
But then leaker kopite7kimi tweeted in early July 2020 that the new Ampere gaming GPUs were "100% Samsung 8nm". That is when everything changed, and the big 8nm rumor mill starting spooling up to maximum speed -- until it hit a huge brick wall with these new GAINWARD leaks.
Related Tags