Here's how to enable dark mode on Facebook desktop
Dark mode is finally being released for Facebook desktop users, here's how to enable it.

Published Thu, Mar 19 2020 7:39 PM CDT
|
Updated Tue, Nov 3 2020 11:44 AM CST
Facebook is finally rolling out the highly desired dark mode for its platform. Unfortunately, this update is only coming to desktop users for the time being.
Accompanied with the dark mode is Facebook's new overhaul of its desktop redesign, adding a much cleaner and more modern look for the entire platform. Facebook recently spoke to TechCrunch and said that "starting today, the majority of people on Facebook will have access to the new desktop design." We knew that Facebook was planning on a redesign as it was announced back at last year's F8 conference.
So, how do you check out Facebook's new redesign? Easy. At the top right-hand corner of the Facebook tab, you will see a little drop-down arrow; it's located next to the '?' symbol, near the notifications bell. Click on the drop-down arrow, and you should see the option "Switch to New Facebook". If you don't see this option, that means Facebook hasn't rolled out the new update in your region, and you will, unfortunately, have to wait until they do so you can switch to dark mode.
If you do have the option to switch to New Facebook, here's how to get onto that glorious dark mode. First, locate that same drop-down arrow at the top right-hand corner of the website. Click the drop-down arrow, and you will see the toggle option to switch to "dark mode". It should also be noted that if you aren't a fan of New Facebook, in the drop-down arrow, you will see the option to switch back to classic Facebook.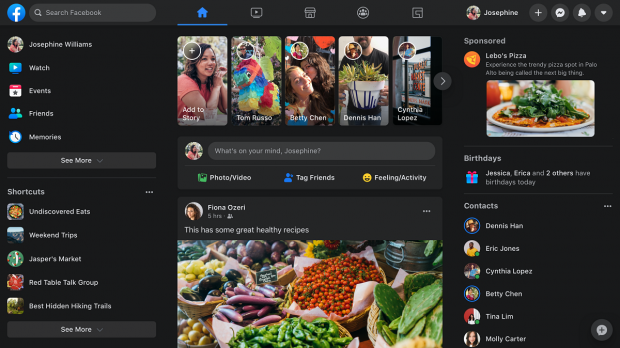 Related Tags