Doom Eternal comes out in just 4 days, and id Software is already planning its next demon-slaughtering adventure.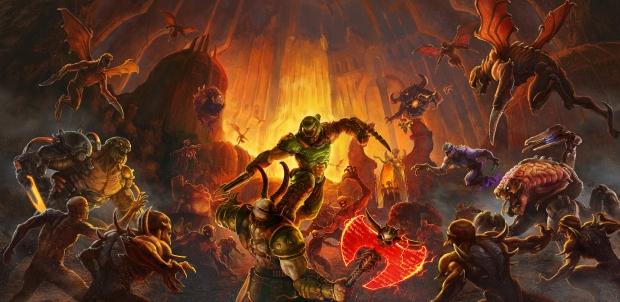 Doom Eternal is set to unleash unholy chaos this week and we're ready to rip and tear like never before. But like any studio, id Software is already planning out what's next for the Doom Slayer. Game devs constantly iterate and plot out their ideas and often start working on the next project even while the current game is still in development.
According to Doom Eternal's creative director Hugo Martin, id is laying the foundations for a sequel. "We're already moving on...we already have ideas for the next thing. And DLC. DLC is guaranteed. It'll be like an episode; we released the movie, and now we're going to release an HBO series of it. It's basically the adventures of Doom Guy. But it's hard to say when we're going to move on to the next game," Martin said in a recent Joe Rogan Experience podcast.
"Certainly we're always kind of dual tracking things and talking because you never know when the cool idea's going to come along. We're also jotting down notes, I always have my notepad out thinking about stuff as I'm working. You never know when it's going to happen. Then we keep those conversations going on the side and we see how it goes."
Martin likens id's FPS skills to car design. "We've perfected the art of making racecars. id's been doing it since the 90s. Doom Eternal is just another racecar."
The creative director finishes off by promising id isn't going to just abandoned dedicated PC games and start focusing on other platforms or other game styles.
"I am fully focused on where games are now, and how to make what they are now better."
We've said from the start that Doom Eternal is just the beginning of a big new expanded universe of games. The story, the lore, the mechanics, and most importantly, the id Tech 7 engine are all foundations for the future of the franchise.
"We're not just making a Doom game any more. We're building a Doom universe," Doom Eternal game director Marty Stratton said at QuakeCon 2018.
Doom Eternal drops on March 20, 2020 on PlayStation 4, Xbox One, and PC.