We just got news from the folks over at OCZ Technology that they've just released a new memory kit which is designed for gamers using DX10 in Windows Vista. The kit comes with a couple 2048MB modules that are rated at 800MHz DDR with 5-5-5-18 timings.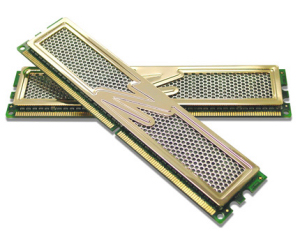 OCZ Technology Unveils High-Speed, PC2-6400 4GB Dual Channel Kits designed to specifically address the needs of Gamers taking advantage of DirectX 10

Sunnyvale, CA-February 5, 2007-OCZ Technology Group, a worldwide leader in innovative ultra-high performance and high reliability memory, today announced the PC2-6400 Gold Edition 4GB (2x2048MB) dual channel kit. These new modules are optimized for perfect compatibility for extreme gamers transitioning their high-performance systems from Microsoft Windows® XP to Vista™. These new 800MHz modules are the ultimate upgrade for gamers taking advantage of the feature-rich, yet demanding operating system.

As part of OCZ's Gold series, the PC2-6400 2GB modules deliver the performance and speed gamers require for today's graphic-intensive DirectX 10 PC games. At 800MHz, the 2GB Gold Edition runs at 5-5-5 latency timings and offers unprecedented stability on the latest AMD and Intel platforms. As a Vista up-grader, the PC2-6400 4GB dual channel kit will provide maximum memory bandwidth and deliver the best possible gaming and productivity on Vista systems.

"Windows Vista provides a fresh experience for both the casual gamer and the die-hard enthusiast, and we are excited to introduce our new 4GB Gold memory kit designed specifically for gamers," commented Alex Mei, VP of Marketing, OCZ Technology. "To assist in delivering the optimal experience for gamers on the new platform, the OCZ Gold Vista Performance memory features a unique blend of high speed and tight timings, providing superior bandwidth to power through groundbreaking DirectX 10 titles."
You'll see more and more companies coming out with 4GB memory packs for Vista soon but it seems like OCZ were the first.