Tesla Cybertruck might be illegal to sell in Europe, redesign needed
Tesla's new Cybertruck might be too revolutionary for Europe, might not pass European standards for on-road use.

Published Mon, Dec 16 2019 7:25 PM CST
|
Updated Tue, Nov 3 2020 11:45 AM CST
Tesla's exciting new Cybertruck has been riding quite the huge viral marketing wave, all without a single cent being spent by Telsa Motors and its CEO and mastermind Elon Musk. But... the new Cybertruck might be ahead of its time, especially for the European market. Musk was recently seen driving the streets of LA in a prototype Tesla Cybertruck.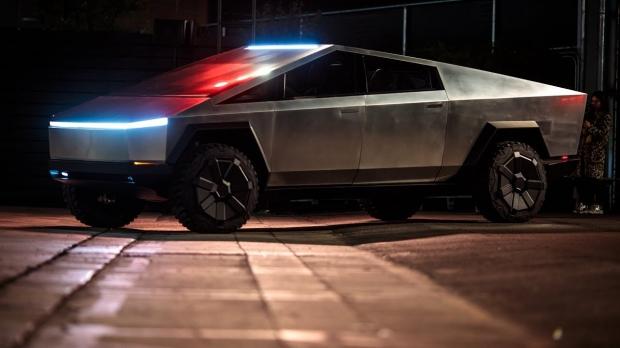 According to a new report from a TUV expert, Tesla might not be capable of selling its Cybertruck in Europe -- at least without some major tweaks to its design and components. Tesla would need to integrate side mirror cameras (if they're not optioned onto the Cybertruck), smaller tires, headlight clusters, and the advanced windshield wipers.
Even with these redesign changes and tweaks, Tesla might not be able to sell its Cybertruck in Europe as it would fail safety tests in its current form. Stefan Tellar, an expert at SGS-TUV Saar GmbH of the Automobilwoche says Tesla would need to make big changes to its basic features before it would be considered to pass in European markets.
Europe is much stricter with its road safety standards than other parts of the world, especially in the US -- where in the US carmakers can certify the cars themselves, whereas in Europe there's much more involved. In Europe, the government is involved in the approval process, the marque, and independent technical services like TUV.
It all starts with the rigid metal sheet that Tesla uses on the hood of the Cybertruck, which would not pass European pedestrian protection and passive safety requirements. This involves the front of the vehicle not being stiff, like the Tesla Cybertruck, with the bumper and bonnet needing to absorb energy to protect pedestrians in the case of an accident.
In its current form, Tesla's new Cybertruck would not be damaged but it would cause critical and possibly fatal damage to a pedestrian, and possibly the driver.
Elon Musk said he is award of the European safety standards required for the Cybertruck, so we should see the required changes made to the car before it goes on sale in 2022.
Related Tags