Rick and Morty Season 4 Episode 4 - Top 10 Easter Eggs you missed
Here's the top 10 Easter Eggs that you may have missed from Rick and Morty Season 4 Episode 4.

Published Tue, Dec 10 2019 1:13 AM CST
|
Updated Tue, Nov 3 2020 11:46 AM CST
Episode four of Rick and Morty has just wrapped up, and what better way to enjoy the episode all over again than jumping into some Easter eggs you may or may not have missed?
Before we list off the best Easter eggs from episode 4, a huge spoiler warning to anyone who hasn't seen the episode yet. Continuing to read this post beyond this point will most certainly spoil the episode for you. If you want to catch up with the news about the fourth episode, the beginning of it was released here and a teaser was released here.
Moving on, the top 10 Easter eggs for this week's episode come from Emergency Awesome, who has done an absolutely fantastic job compiling everything we might have missed into a short 12-minute video. In the entirety of this post, you will find the top 10 Easter eggs listed in order.
Top 10 Easter Eggs from Rick and Morty Season 4 Episode 4 - Claw And Hoarder: Special Ricktim's Morty
The episode's title 'Claw And Hoarder: Special Ricktim's Morty' is a direct reference to Law & Order Special Victims Unit

Morty is becoming more assertive around Rick, Rick then shows he's completely aware of the Marvel universe. Makes Wolverine claw reference

Morty gets his dragon. Wizard is voiced by Dan Harmon and the dragon voiced by Liam Cunningham (Davos Seaworth) from Game of Thrones.

Jerry's talking cat is voiced by Matthew Broderick (Ferris Bueller's Day Off), and was created to be a visual metaphor for the writers not to take things too seriously and overthink things.

Rick breaks the fourth wall and says, "that's the end of the Morty gets a dragon episode". Before that Summer references the TV show Bones, but instead its called Ass

Rick fights the dragon, and its horde is full of references. Venus de milo statue, Tesla car, Ghostbusters ecto cooler, action comics #1, Dan Harmon Funk Pop, and more.

Dragons are polygamous and highly sexual. Rick and the dragon soul bond while sending Morty a gif of Taylor Swift pumping her fist.

The group soul-bond is a highly sexual experience.

Rick's weapon that turns things into random objects seems like a reference to Hitchhiker's Guide To The Galaxy

The dragon warns Rick that his "lessers will hunt him down" and that he is "one of a dying breed." This is a reference to how Rick's are continuously in danger and are constantly dying.
There is many more references in the episode, these are just the ones that seem to have stood out the most.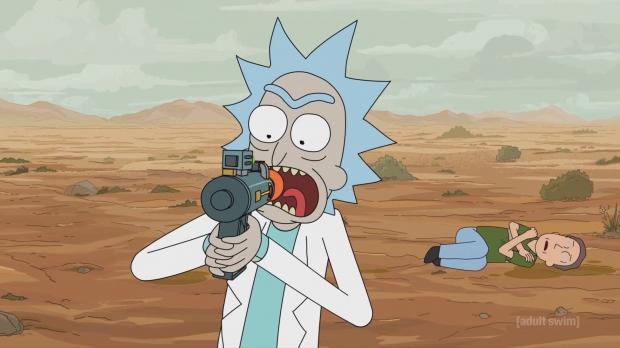 Related Tags