This Witcher TV show fight scene video puts Game of Thrones' to shame
Netflix has released a fight scene video from their upcoming Witcher TV show and it's brutal.

Published Sat, Dec 7 2019 1:40 AM CST
|
Updated Tue, Nov 3 2020 11:46 AM CST
If you haven't been keeping up with the Witcher TV show news, critics have said that the fight scenes in the show 'make Game of Thrones fights look awful' -- now we can take a look for ourselves.
Netflix has released an extremely short teaser clip of Geralt of Rivia doing what he does best, hunting and killing victims. The video can be seen above, and from what we can see, it appears Geralt, played by Man of Steel's Henry Cavill, is in a courtroom, and something goes badly wrong. What appears to be the ruler of the courtroom orders her men to kill Geralt and his friend, and that's where she made a mistake.
Choreography wise, Cavill has got Geralt's graceful yet brutal fighting style down packed - this an extremely important part for Witcher fans as Geralt and Witchers, in general, have a particular fighting style. Geralt cuts through the men that approach him like a warm knife going through butter. After seeing this fight scene hype has increased even more for the shows expected arrive on December 20th.
If you are after anymore Witcher TV show news, check out our massive range of articles here.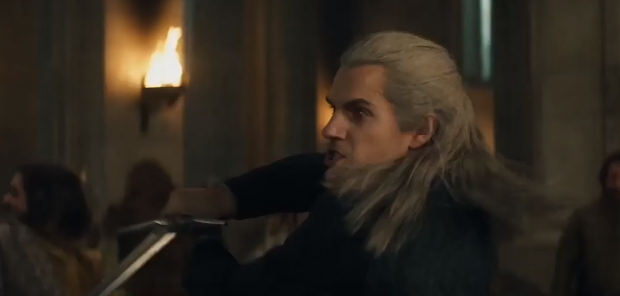 Related Tags