Destiny 2's Season of Dawn calendar timeline revealed
Bungie outlines what's coming to Destiny 2's new season, and when.

Published Wed, Dec 4 2019 3:13 PM CST
|
Updated Tue, Nov 3 2020 11:46 AM CST
Yesterday Bungie announced Season of Dawn, Destiny 2's big new seasonal update that brings back Saint-14. Now they've revealed more specifics on when the content is coming.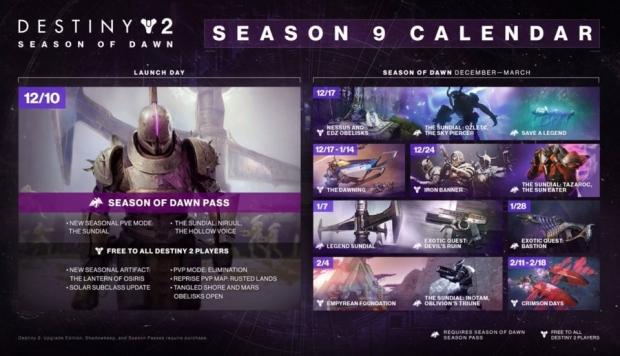 Season of Dawn looks to be Destiny 2's most ambitious season yet, complete with a new 6-player Firefight-like horde mode called Defend the Sundial, as well as a ton of new weapons, gear, PVP maps and the return of the Rusted Lands, and a story based on time-traveling. But everything won't be available all at once. Instead, Bungie is staggering the content to last up until March 2020, and it looks like there's no raid and trials isn't returning.
The Sundial will have three big Cabal Psion bosses, and there's a bunch of little public events strewn across the solar system called Obelisks. The Sundial mode will have matchmaking, and there's also a new artifact called Osiris' Lantern. Season of Dawn will introduce a new event/mode? called the Empyrean Foundation in February that's free for all Destiny 2 players. There's also exotic quests thrown in there too.
Destiny 2's new Season of Dawn will be available starting December 10, and carries forward until March 9. You'll need to buy the Season of Dawn season pass to get access to most things, but a free version will be available to everyone.
Related Tags