Blizzard Black Friday deals: Overwatch for $15, 50% Diablo III and WoW
Blizzard discounts Overwatch to just $5, Diablo III to $20, and Battle of Azeroth for $25 in its Black Friday sales.

Published Tue, Nov 26 2019 4:09 PM CST
|
Updated Tue, Nov 3 2020 11:46 AM CST
Blizzard is slashing prices on its biggest games ahead of Black Friday, including Overwatch, Diablo, and even Activision's Call of Duty.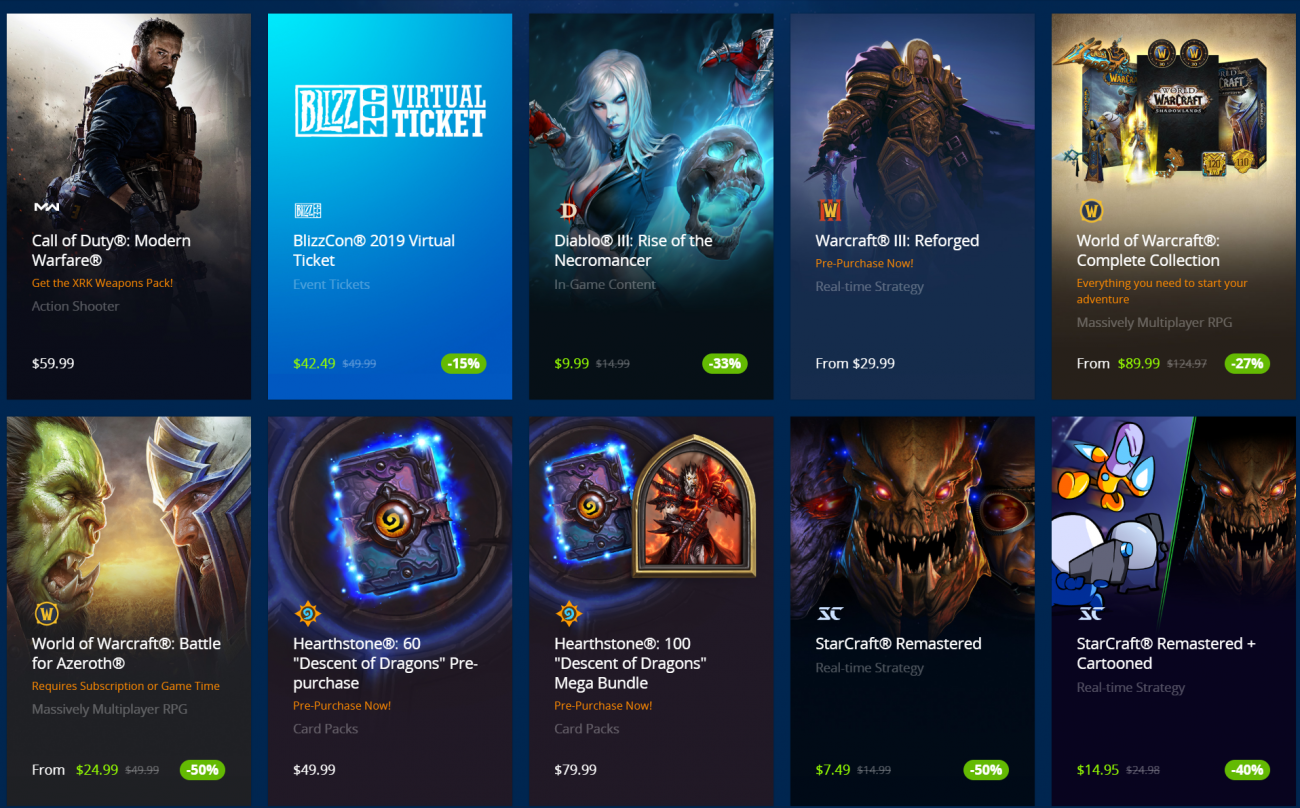 Blizzard's new Black Friday deals are now live on the Blizzard Shop, offering some decent savings on Overwatch (discounted to $15) and other games.
Battle for Azeroth is discounted to $25, which is pretty good, and Diablo III with Reaper of Souls can be had for $20, which isn't bad either.
Black Ops 4 is down to just $24, and there's a slight discount on Modern Warfare's $100 digital deluxe edition is down to $80.
The sale goes from now until December 2, and includes:
World of Warcraft: Battle for Azeroth - Save up to 50% off Battle for Azeroth (Standard, Digital Deluxe Edition, or Digital Deluxe Upgrade) and other Digital Deluxe items, as well as 50% off the first month subscription for new players. Don't forget that a subscription includes access to both World of Warcraft and World of Warcraft Classic!
Overwatch -- Get 25% off Standard Edition and 50% off Legendary Edition for PC, in addition to a Free Trial from now until December 4 on PC, PS4 and Xbox One.
Hearthstone -- Get 30% off Hearthstone Heroes Alleria Windrunner, Magni Bronzebeard, and Medivh.
Diablo III - Get up to 50% off the base game and Reaper of Souls, along with more discounts for Eternal Collection, Battle Chest, Rise of the Necromancer, and Reaper of Souls Digital Deluxe.
Heroes of the Storm - Get up to 30% off the Welcome to the Nexus Bundle and the Heroic Reinforcements Bundle, along with 33% off the 360-day Stim Pack (available in-game only).
StarCraft: Remastered and StarCraft II - Get up to 50% off StarCraft Remastered and StarCraft II campaigns and announcers, along with up to 40% off the StarCraft Remastered and Cartooned Bundle.
BlizzCon 2019 Virtual Ticket - Get 15% off the Virtual Ticket, with access to replays from BlizzCon 2019, exclusive video programming, and bonus in-game items for all Blizzard franchises, including unique skins, pets, and other goodies.
Related Tags