Crytek releases ray tracing benchmark demo Neon Noir
CRYENGINE 5.7's new ray tracing tech demo Neon Noir now available to download, and benchmark.

Published Wed, Nov 13 2019 9:26 PM CST
|
Updated Tue, Nov 3 2020 11:46 AM CST
Crytek teased one of the best-looking tech demos ever with Neon Noir unleashed at the Game Developers Conference 2019 earlier this year, but now you and I can download and run it -- is this the new Crysis?
CRYENGINE 5.7 is the latest build of the engine that the team has injected DirectX 12 and Vulkan API support into, something that is explained and detailed in Crytek's "Making of" the Neon Noir demo in a new CRYENGINE developer diary video.
As for Neon Noir, it is a project for Crytek's hardware and API agnostic ray tracing technologies in CRYENGINE, now in benchmark form. Crytek explains that their mesh-based ray tracing in CRYENGINE 5.7 and Neon Noir uses their SVOGI technology, which will ship in CRYENGINE in 2020. You can download the Neon Noir Ray Tracing Benchmark right here.
Crytek explains the Neon Noir ray tracing benchmark:
"Neon Noir is an executable benchmark having the scope of the ray tracing demo of the same name that was released as a video at GDC 2019. Run the benchmark on your home system to receive a score for your current rig and see how well it performs when our ray tracing feature is rendered on it in real-time.
Neon Noir also comes with full Razer Chroma RGB integration and will pair nicely with Razer Chroma enabled hardware and peripherals. NOTE: You need Razer Synapse to enable these effects. This Razer Chroma RGB integration will be made available to CRYENGINE developers to add Chroma effects to their games easily in the near future".
As for the PC recommended specs, you'll need:
AMD Ryzen 5 2500X CPU/Core i7-8700

AMD Vega 56 8 GB VRAM/NVIDIA GTX 1070 8 GB VRAM

16 GB System Ram

Win 10 x64

DX11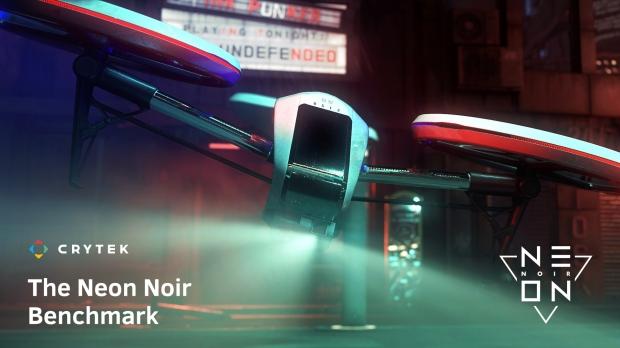 MSI Gaming GeForce RTX 2080 Super 8GB GDRR6 (RTX 2080 Super Gaming X TRIO)
Related Tags