Doom creator John Romero has one simple bit of advice for FPS developers: Quality over quantity.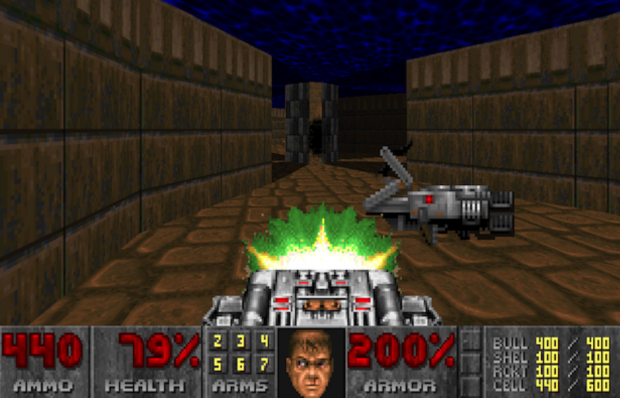 FPS games today typically have two trajectories: The long-winded live service approach, which inundates players with tons of varieties and ways to upgrade guns, and singleplayer experiences, which are more straightforward and streamlined. But either way modern FPS games suffer from a needless complication: Too many guns.
At least that's how John Romero feels about shooters these days. Shooters need to create a kind of intimate bond between the player and their guns--after all, your rifle is your only friend out there in the bloody wilderness. It's hard to get attached to weapons when there's so many to choose from. "I would rather have fewer things with more meaning, than a million things you don't identify with. I would rather spend more time with a gun and make sure the gun's design is really deep - that there's a lot of cool stuff you learn about it," John Romero said in a recent interview with The Guardian.
Romero touches upon how shooters have dramatically shifted from experiences with a definite end into engagement-driven affairs focused on replayability. This often means gun variety is a huge factor, which can water down the specialness of specific weapons.
"The more weapons you throw in there, the more you're playing an inventory game," the Doom dev said.
I'd say Destiny 2 does both a good and bad job realizing Romero's points: It does a great job in creating that bond with players and their guns, but it's also very much an inventory simulator at times.
Romero also highlights one of the major design ethos of Doom's weapons system. It's all about complimenting what's already there, not actually replacing anything.
"For Doom, it was really important that every time you got a new weapon, it never made any previous weapons useless. That was a critical design characteristic. We're going to add a new thing that can't negate anything that came before."
Doom games have marginally kept these original tenants intact. Doom Eternal on the other hand adds even more complexity to the equation. Doom Eternal is built around engagement this time and that means lots of grinding, customization, and focus on replayability, which essentially turns Doom into a live game of sorts. It's not online co-op in this regard, but it's more of an online-type of campaign experience similar to Assassin's Creed: Odyssey.
As someone who just about wrapped up The Outer Worlds' more condensed RPG storytelling, I'm a fan of this approach of quality vs quantity. I'd rather have a highly-polished and chaotic shooter campaign that's short over a long-winded and tedious campaign with a huge 10-12 hour story arc.