Blizzard is experimenting with an awful-sounding trading system for Diablo IV, and they need to just kill it right out of the gate.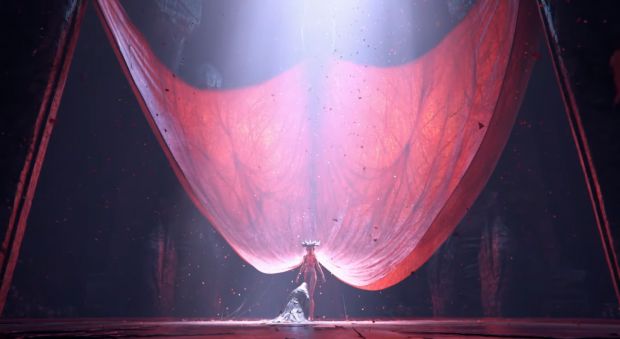 Let me preface this by saying I traded a ridiculous amount of items in Diablo II: LoD on Battle.net. In fact, I almost traded more than I actually played. There was something extremely addictive about the constantly-shifting economy that reset with every ladder wipe. It forced you to pay attention, to communicate, and to be opportunistic when you wanted specific gear. Sometimes you got lucky and found a great deal, other times you haggled. It was an actual skill that you had to learn to get far in the game--grinding was never enough.
A lot of those things will be eradicated with Blizzard's new trading system for Diablo IV. Nothing's set in stone just yet, and I hope this simply doesn't take off.
So what makes Diablo IV's trading so bad? A Blizzard dev explains the current experimental structure:
"The one thing we're leaning towards and we want your feedback on is trading. There would be three different types of tradable items: Items that're tradeable all the time, no restrictions, like consumables, crafting mats, certain items and certain armor.
"There are also items that could be traded once and then become bound to you.
"And then there's some set of items that can never be traded. They're bound to you. These are likely the most powerful items that would be bound on pickup, but the line of where that is, in terms of just having those three categories, we have a lot of flexibility," Diablo designer Joe Shelys said in an interview with Twitch streamer Quin69.
"So how many items does that mean that're bind on pickup? Is it two items, is it 100 or 500 items--where is that line. So we have a lot of balancing within that system but that may not be the system we go with."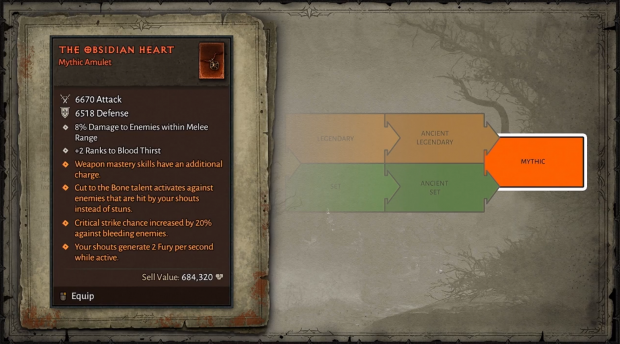 Diablo IV's new mythic grade items will dramatically change the game, and probably can't be traded. This is a mistake.
Some pieces of gear are completely bound to your account, which is something I never agree with. That's too WoW-y for me and it doesn't belong in Diablo. I don't care if the item is absolutely godly and insane, if it's in the game, you should be able to trade it or even give it away if you so choose. It's your item, and you earned it.
Obviously this type of gear can't be traded. This is a mistake because it'll reserve the trading economy for lesser pieces of gear and take a lot of the potency away from trading.
Diablo is, has been, and always should be about empowering gamers. Everything should make us feel awesome and strong. Just because the game is dark, gritty, and brutal doesn't mean you should take away our power. Quite the opposite: You now have to make us feel more powerful as we overcome the greater challenges.
Diablo IV's gear is a huge part of this, and I don't think that items getting stronger should prevent trading--no, quite the opposite, this should encourage trading. It should make us want to swap out gear and try new builds, using other players' luck, time, and efforts as a means to do so.
Diablo II: LoD got pretty insane with runewords like Enigma, Call to Arms, and HotO, and Diablo IV will do the same with its new legendaries and mythic items that directly boost, change, and affect player skills.
It's true that not everything in Diablo II: LoD is tradeable in the window, like the Annihilus small charm or the Hellfire Torch. But Blizzard's proposed idea would lock off a whole section of items from being traded, not just two charms.
If Blizzard really wants to maximize engagement, it needs to let us trade everything. Yes, it'll take some balancing because gamers can get OP gear more accessibly, but it'll also create an environment where trading is tremendously important and keep another in-game economy vital and strong.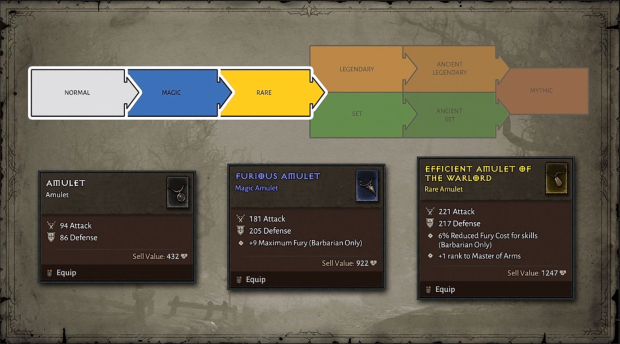 The different tiers of gear variance in Diablo IV.
Next up we have the terrible idea that an item can be traded once before it becomes bound. Don't do this, Blizzard. It adds a needless sense of anxiety and permanence to trading. The whole idea of trading is getting rid of what you don't need for something you do need.
Don't use this mechanic as a means to propel the endless material grinding that'll go into endgame item customization. That's really why I think Blizzard is restricting trading so much, because they want us to keep grinding and grinding for gear and other items. It might be part of the huge never-ending progression scheme Diablo IV is built off of.
But that progression should never ever be locked or restricted. We'll depend on other people for leveling up, questing, and world events, and we should also depend on them for trading. It's part of the social fabric in which live games are knit.
I implore Blizzard to think twice about this trading scheme, and to do tons of beta testing before Diablo IV is released. Don't hold things back because you want to balance everything. Instead think about the main goal of the experience first, to have fun, and a part of that is giving accessible options to adequately share, interact, and trade with other players.
Diablo IV is coming to PS4, Xbox One and PC, but we don't know when. Blizzard says it's "not coming any time soon, even by Blizzard standards."
Everything we know about Diablo IV so far:
3 classes: Barbarian, Druid, and Sorceress

Talent trees buff skills

Cosmetic microtransactions confirmed

Will have paid expansions

Trading is in, along with clans

Seasonal events

No skill respeccing

Online-only shared world

Runewords are back, can be socketed into legendaries, rares, etc.

Set 30 years after Diablo III

Mepistho's daughter Lilith, the Mother of Nephalem, is the antagonist

PC and console cross-play