Voyager 2 officially reaches interstellar space & sends message back
Researchers have confirmed that NASA's Voyager 2 has officially reached interstellar space.

Published Tue, Nov 5 2019 7:10 AM CST
|
Updated Tue, Nov 3 2020 11:46 AM CST
Humans have now successfully got a second man-made object out into interstellar space. Voyager 2 has now officially joined Voyager 1 out in the abyss.
Researchers out of the University of Iowa have reported that Voyager 2 has officially entered the interstellar medium or ISM for short. The ISM is a region in space that is outside of the Suns solar winds, and this was discovered by researchers detecting a definitive jump in plasma density. Researchers noticed that the spacecraft went from the hot, low density plasma characteristics, to cool, higher density recordings.
According to Don Gurnett, an author on the study that is published in Nature Astronomy, "In a historical sense, the old idea that the solar wind will just be gradually whittled away as you go further into interstellar space is simply not true. We show with Voyager 2-and previously with Voyager 1-that there's a distinct boundary out there. It's just astonishing how fluids, including plasmas, form boundaries."
Voyager 2 passing into the ISM has provided scientist with valuable information, as Voyager 2 entered the ISM at 119.7 astronomical units (AU), or 11 billion miles from the sun. While, Voyager 1 entered the ISM at 122.6 AU. Why is relevant? Because both the crafts were launched within weeks of each other and had different trajectories across space, yet they both entered the ISM at basically the same distances from the Sun. This gives researchers a much better idea of the shape of the heliosphere.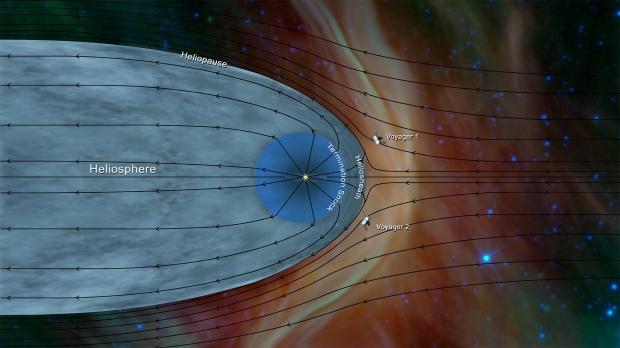 Related Tags