The world's largest Ouija board is as big as a brontosaurus
Ouijazilla manifests itself in Salem, probably doesn't want your soul.

Published Mon, Oct 14 2019 12:50 AM CDT
|
Updated Tue, Nov 3 2020 11:46 AM CST
Just in time for Halloween... the world's largest Ouija board has arrived in Salem. Ouijazilla was created by New Jersey-based tattoo artist Rick Schreck, who is also the vice president of the Talking Board Historical Society, of which I did not know existed until just now.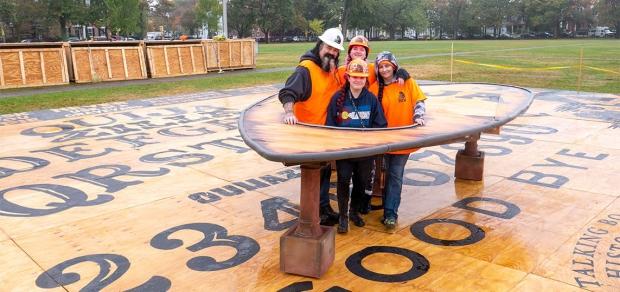 Ouijazilla weighs a hefty 9000 pounds, and so long that the world's largest Ouija board could have five 18-wheel trucks park on top of it. For those unfamiliar with a Ouija board, the "planchet" is the part of the board that you put your hands-on and it moves around -- with the planchet on Ouijazilla a massive 15.5-feet in length and weighs a huge 400 pounds on its own.
In an interview between Schreck and Talking Board Historical Society's director Karen Dahlman, he explained: "The board that I used, actually, to replicate is the 1998 (board) for Hasboro. The glow-in-the-dark board. That's my favorite. ...Ouijazilla is big enough to put, I think, 2,300 of those boards on top of it".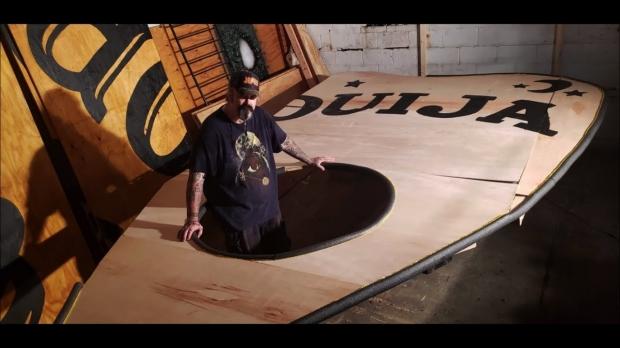 Schreck has been working on Ouijazilla for over 12 months, with the board big enough for him to stand inside of the hole of the planchet, with the entire board in black. In a separate interview, he explained: "Just for the paint itself, the black paint, which goes miles, that paint goes forever, it's probably about 20 quarts. Twenty quarts of black enamel, and I don't even know how many gallons of deck stain to stain this thing".
He plans to "invade" Salem, explaining: "We're going to invade Salem, Massachusetts, the place that inspired me to collect ouija boards back in 1992".
I hope you're prepared, Salem.
Related Tags