DJI offers a DIY robotics and programming learning kit, welcome SKYNET
DJI enables you to build and program your own customizable robot at home with the Robomaster S1, teaches valuable programming and robotics skills.

Published Wed, Oct 9 2019 1:22 PM CDT
|
Updated Tue, Nov 3 2020 11:46 AM CST
DJI has made a significant push in reinforcing the importance of STEM. STEM for those who are not aware is the educational system focusing on Science, Technology, Engineering, and Mathematics. Many schools have adopted STEM education and push forward on educating those interested in working in the science in engineering fields where many of these skills are valuable.
The Robomaster S1, as DJI has labeled the STEM learning kit, is, in essence, something you will need to build and program yourself. The Robomaster S1 looks like a mini version of a rover like we have sent into space to explore different planets. While this specific robot may not be tasked with exploring extraterrestrial bodies, it can explore and even attack terra firma here on Earth.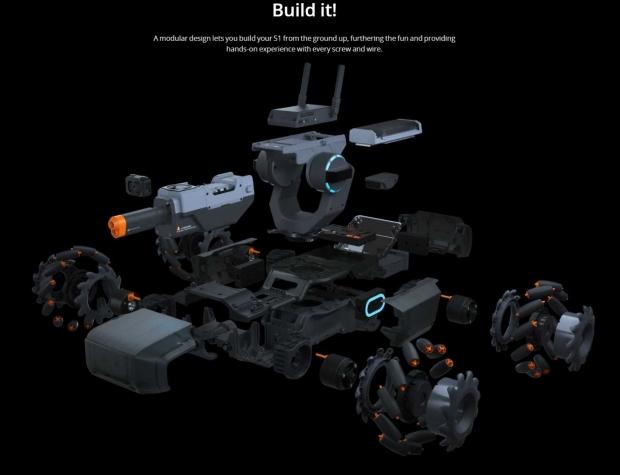 The Robomaster S1 comes in pieces (many of them), and you must assemble it to build your ground-dwelling or rolling, in this case, mobile robot soldier. Now as you can see the reason I say soldier or attack is that the Robomaster S1 may look cute and friendly, it comes with a gel bead firing blaster and even LED targeting lights to help map the projectile trajectories.

Now, while having your own robot is cool, as the old adage goes 'with great power comes great responsibility," and in the case of the Robomaster S1, you can program it with Scratch or Python depending on which you are most interested in working with. Either way, you can program your new robots every move, so what you choose to do with it, it's genuinely up to you, and of course, your ability to actually learn how to program it.
While it may not be Skynet (yet), you can rest assured that whoever makes the race of killer robots, may have started with a Robomaster S1.
If you are interested in starting your own robot colony or dare I say army, the Robomaster S1 kits are available for $549, and we even linked one available via Amazon prime for your convenience. Do you plan to build up your own RoboMaster S1? and what would be the first thing you would do with it?
Related Tags