Razer's new Seiren Emote streaming mic rocks RGB LED display
Razer's new Seiren Emote microphone brings your emotes to life, no... really!

Published Sun, Sep 29 2019 12:47 AM CDT
|
Updated Tue, Nov 3 2020 11:47 AM CST
Razer has just upped the ante on the streaming microphone game, with the gaming giant revealing its new Seiren Emote -- a new streaming microphone that features an 8x8 pixel grid into the camera-facing side of the new microphone.
What the new Razer Seiren Emote microphone does uniquely is that it uses the RGB LED display to show Emotes in real-time, based on what you (the streamer) is saying. This is why the display is camera-facing, so that it is picked up by the streamers camera and displayed to the audience. Because you know, if someone is angry you can't already tell -- you need an array of RGB LEDs displaying an animated Emoticon in order to know.
Sarcasm aside, the streaming world will love this -- and it's not like Razer is making some cheap knock off, the Seiren Emote will be a high quality gaming microphone for streamers. Better yet, you can tweak software to display emotes from chats, have it synced with your Philips Hue lighting, and more.
Razer Seiren Emote microphone details:
8-bit Emoticon 8 x 8 RGB LED Display showcasing hundreds of emoticons on your mic

Stream Reactive Emoticons ready for customization

Hyper-cardioid Condenser Microphone for professional-grade streaming

Streamer Companion App compatible with Twitch, Streamlabs, XSplit & Mixer

Built-in shock mount to dampen vibrations

Interchangeable Gooseneck for height extension

Plug and Play for fuss-free streaming out of the box
Razer's new Seiren Emote microphone features a built-in shock mount, extendable gooseneck stand, and it can be disconnected from its mount and used on a normal mic arm and shock mount, too.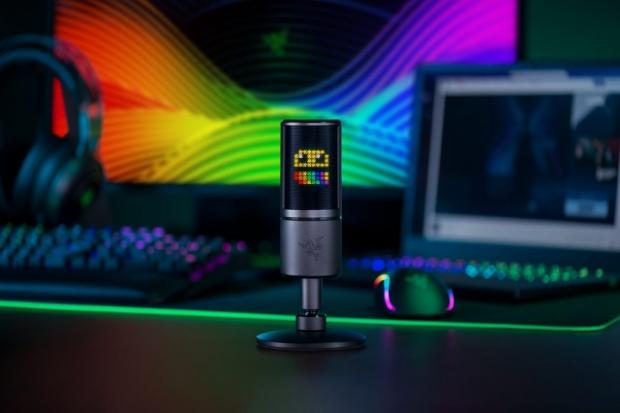 Related Tags