Astrophysicists say gamma-ray jets can move faster than speed of light
Astrophysicists have suggested that gamma-ray jets from a blazar could actually travel faster than the speed of light.

Published Fri, Sep 27 2019 1:03 AM CDT
|
Updated Tue, Nov 3 2020 11:47 AM CST
Astrophysicists out of the College of Charleston have issued a new paper that has been published in The Astrophysical Journal suggesting something can move faster than the speed of light.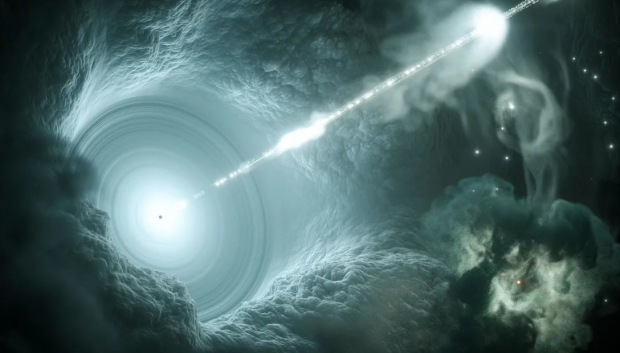 One of the core principles of physics is Einstein's Theory of General Relativity, which states that no object can move faster than the speed of light. This is because when an object is moved it requires energy, and as an object is moved faster and faster its mass grows becoming 'heavier' requiring more energy. So when an object reaches close to the speed of light (299792458 meters per second) its mass is almost infinite making it impossible to surpass this speed.
Jon Hakkila and Robert Nemiroff aren't going against Einstein's established ruling, but what they have found is that gamma rays that are blasting out of a blazar (an active galactic nucleus with a relativistic jet. Above image) surpass the speed of light in surrounding gas clouds. This would make these gamma-ray jets superluminal. It was found that this isn't the case in a vacuum, meaning that Einstein's theory still holds solid cosmological ground. Here is what Hakkila said "Standard gamma-ray burst models have neglected time-reversible light curve properties. Superluminal jet motion accounts for these properties while retaining a great many standard model features."
Related Tags