YouTube has reversed its controversial decision to yank verified badges from a number of high-profile streamers and YouTubers.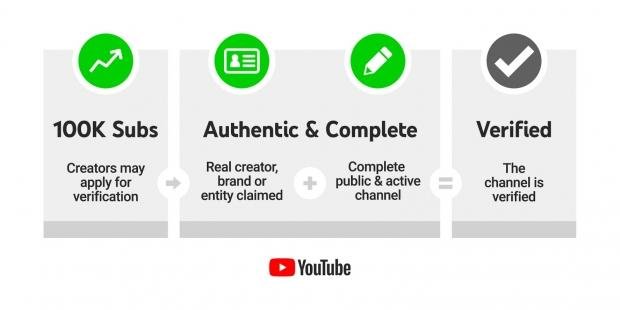 YouTube is always under fire for something, but this time the video titan relented and listened to its community. A bit ago YouTube decided to change its verification policy to make it harder to get a badge. The new policy would've revoked verification badges from dozens of YouTubers without much explanation. Predictably so, just about every content creator affected by the change made a video about the issue, prompting massive community pressure on YouTube's HQ.
Now YouTube head Susan Wojcicki recently announced the news and confirmed the policy rollback. YouTube still plans to go forward with a tighter verification process, but existing verified users won't lose their badges. New badge applications will open back up in October, but they'll be approved and filtered by YouTube this time. Accounts will still need at least 100,000 subscribers to apply.
"First, we heard loud and clear how much the badge means to you. Channels that already have the verification badge will now keep it and don't have to appeal. We'll continue reviewing those channels to ensure we're protecting creators from impersonation," a new update reads.
It's great to see YouTube is flexible on this issue and listens to the community, especially given the huge revenue streams its content creators bring in.
Here's a brief rundown of the eligibility requirements under the new policy:
New eligibility requirements

Under our current eligibility requirements, channels with more than 100,000 subscribers can be verified regardless of need for proof of authenticity. That worked well when YouTube was smaller, but as YouTube has grown and the ecosystem has become more complex, we needed a new way to verify the identity of channels and help users find the official channel they're looking for.

Our new criteria prioritizes verifying prominent channels that have a clear need for proof of authenticity. We look at a number of factors to determine if a channel meets this criteria, including:

Authenticity: Does this channel belong to the real creator, artist, public figure or company it claims to represent?

Prominence: Does this channel represent a well-known or highly searched creator, artist, public figure or company? Is this channel widely recognized outside of YouTube and have a strong presence online? Is this a popular channel that has a very similar name to many other channels?

The new criteria will apply for all channels. Channels that meet the new requirements no longer need to apply; we will automatically apply the new verified treatment.