Police testing Spider-Man-style take down that would wrap up baddies
BolaWrap is your Friendly Neighborhood Wrapper-uperer for police.

Published Thu, Sep 19 2019 11:50 PM CDT
|
Updated Tue, Nov 3 2020 11:47 AM CST
A new technology is being trialed by police departments in the United States with a Spider-Man-style device that shoots out a tether, which fires out fast and entangles and restrains the suspect -- all without harm.
Tasers killed 49 people in 2018 so it makes sense to use a harmless method to subdue people, with the new 'BolaWrap' portable device firing an 8-foot (2.4m) bola-style tether that entangles a suspect at the waist, or around the legs.
Wrap Industries is behind the BolaWrap with company president Tom Smith explaining: "Whether it is a Taser, pepper spray, baton ... there's been this gap created by the courts requiring that a higher level of force be used at the appropriate time. This tool fits perfectly into that gap giving the officers another option to use before having to use that high level of force to end that conversation very early, very safely".
The BolaWrap is about the size of a smartphone (but thicker) and will clip onto a police belt, and when used will shoot out a synthetic fiber tether at high speeds of around 640 feet per second (200m per second). You won't even see it coming at that speed, with the BolaWrap device using a green light that lines up with the suspect for easy shooting.
There is no pain with the BolaWrap versus the pain and possible death from a taser.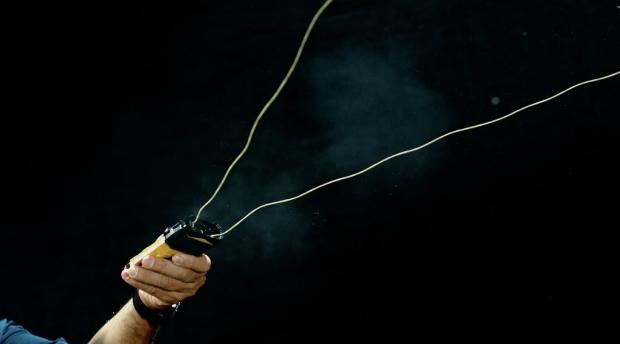 Related Tags