Ghost Recon Breakpoint's roadmap shows 1 year of content
Ghost Recon Breakpoint will evolve with lots of post-launch content in a seasonal format.

Published Tue, Sep 3 2019 2:54 PM CDT
|
Updated Tue, Nov 3 2020 11:47 AM CST
Like all of Ubisoft's games, Ghost Recon Breakpoint will have an expansive roadmap of post-release content to keep players engaged.
Ghost Recon Breakpoint comes out next month and Ubisoft is already showing off what's next for the game. Breakpoint's first year will include three big episodes that're staggered in seasonal releases across October 2019 through September 2020.
Each episode promises a hefty amount of content like new Adventures, which are basically robust story-based expansions; a new class; special events like the Terminator: Dark Fate cross-over; new faction missions; and two new raids. Some content like the adventures can only be sampled by free players, and to play the full version you'll need the Year 1 Pass.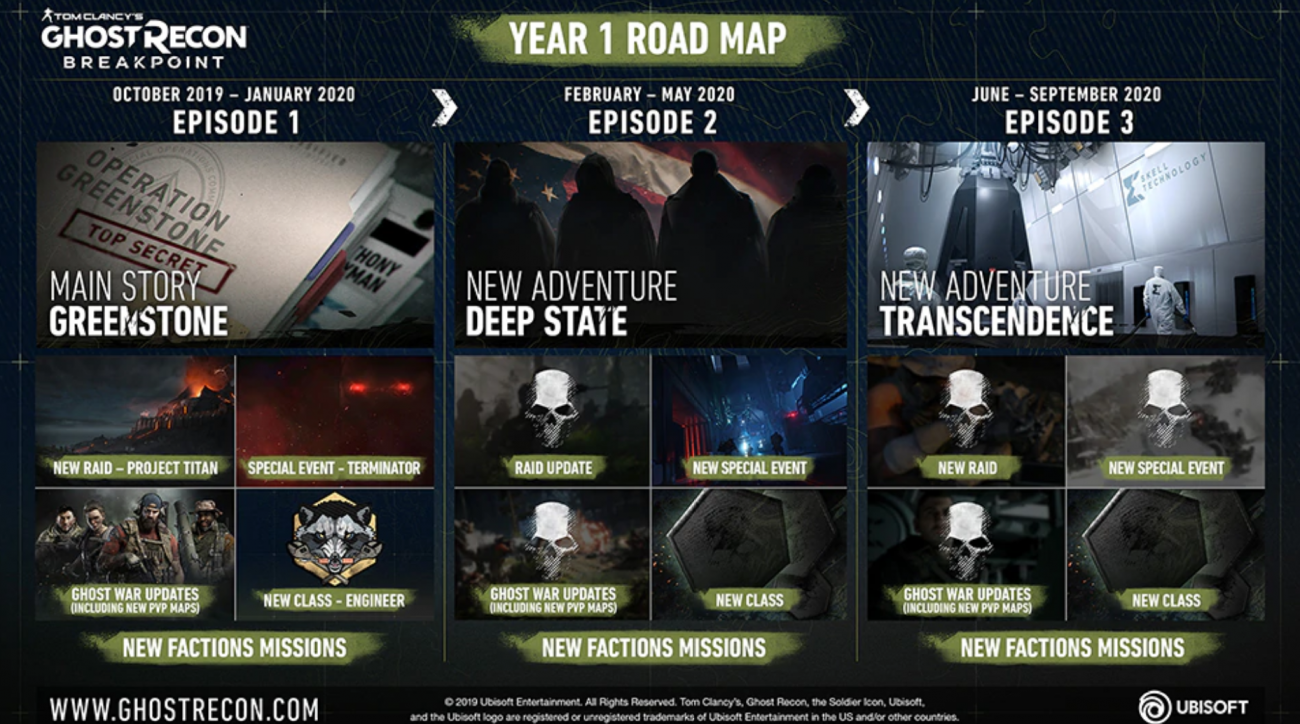 Apart from the actual content, we'll see lots of tweaks and small updates over time. We'll see a ton of balances roll out to optimize Breakpoint's new features.
Breakpoint is a slight departure from Wildlands and sports new survival RPG mechanics that're designed to keep you playing as long as possible. Breakpoint will have a new injury system like crippled limbs that inhibits you in battle. There's also a new stamina bar that has to be properly watched, and you'll also need to maintain your character by eating food and drinking water.
Ghost Recon Breakpoint releases October 4, 2019 on PS4, Xbox One, and the Epic Games Store on PC.
Here's a rundown of what to expect from Ghost Recon Breakpoint's year 1 content:
THREE EPISODES

Year 1 is comprised of three episodes:

Episode 1: Operation Greenstone - Released October 4th, 2019

Episode 2: Winter 2020

Episode 3: Summer 2020

During each episode we'll be releasing the content from the road map over several regular updates so you'll have a steady stream of new things to engage with throughout the entire year!

NEW ADVENTURES

With each episode, we will add a new adventure for you to explore that will continue the story of the main game.

Each adventure will be around five hours long and all players will be able to try the first part of the adventure (approximately an hour) for free! Access to the full adventure is given to all Year 1 Pass owners automatically.

RAIDS

Our first raid, Project Titan, will be released during Episode 1. It will take you to an island where you'll need to face lethal challenges that will test all of the skills you've learned on Auroa in an intense 4-player coop experience. Did we mention you'll do all of this on an active volcano?

Our raid is fully replayable and adapted to all playstyles. You'll need top-notch communication skills to make it through each layer of challenge.

FACTION MISSIONS

Starting at launch, each faction in the game will start to evolve. Every month, new narrative Story Faction Missions will be released, bringing context as well as character development to the players.

Every day you will be able to access new Faction Missions. These missions provide various objectives to support the factions and their narrative arcs.

NEW CLASSES

During Year 1 we will introduce three new classes that can be played in both PvE and PvP.

We've just announced the first class coming to Tom Clancy's Ghost Recon Breakpoint in post-launch: the Engineer. This class will bring expertise in hacking and heavy weaponry.

Year 1 Pass owners will get one week early unlock to these classes.

LIVE EVENTS

Our first Live Event will feature a new enemy that will challenge even the most seasoned Ghosts. You can look forward to a new event added every episode of Year 1.

PVP UPDATES

In addition to the new classes that will be fully playable in PvP, new PvP maps and updates will be added throughout Year 1. Ghost War fans will have consistent updates that add fresh challenge and variety to the PvP experience.

REGULAR NEW CONTENT

Throughout each episode, there will be additional content to engage with including new missions, activities, and unlockables.

Related Tags