Cyberpunk 2077 full skill tree, attributes and gear revealed
Cyberpunk 2077's skill system takes cues from The Elder Scrolls, complete with governing attributes and perks.

Published Fri, Aug 30 2019 2:43 PM CDT
|
Updated Tue, Nov 3 2020 11:47 AM CST
Today CD Projekt RED dropped the new 14-minute Cyberpunk 2077 demo from E3 2019, and it's jam-packed with info. First we saw how Netrunners can hack pretty much anything in the world, and now we get a taste of the game's dynamic skill system.
Cyberpunk 2077 is a huge choice-driven RPG where you can mix and match abilities at will. There's no hardline classes, and it's up to you how you want to play: as a melee specialist who dukes it out and blasts baddies with huge guns or a stealthy Netrunner who melds with the shadows, CDPR gives you opportunities to fill out all the variations in between. The skill system is actually pretty familiar and takes cues straight from games like Morrowind and Skyrim.
Cyberpunk 2077 doesn't really have skills. Instead it has perks that buff your proficiency in things like hacking, rifle handling, and augmentation efficiency. All of Cyberpunk 2077's perks are governed by an attribute similar to Morrowind or Oblivion, but the perks are straight out of Skyrim.
Here's how it all breaks down.
Read Also: EVERYTHING in Cyberpunk 2077 can be hacked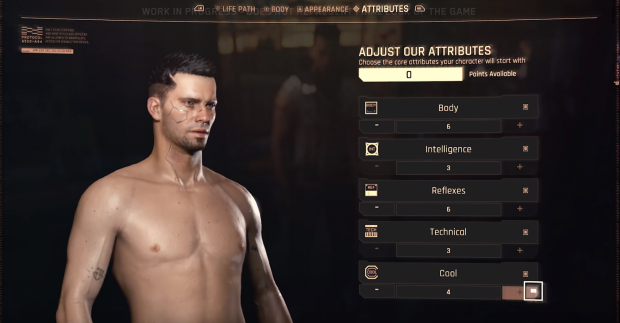 Perk Tree and Attribute Stats
"Cyberpunk 2077 does not feature fixed classes. Instead, it has a fluid class system that allows players to mix and match a wide range of abilities to suit their playstyle. You can create a strong solo character, a skilled netrunner, or any other hybrid class you can imagine."
There's five main stat attributes: Body, Intelligence, Reflexes, Technical, and Cool (yes, that's a real stat). Every attribute stands over certain perks and proficiencies, so it's important to level up the gateway stat before you're able pursue specific perks.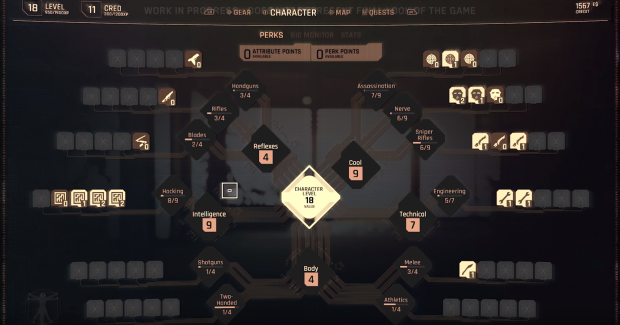 The attributes affect specific things like:
Body - Two Handed guns (massive rifles), Shotguns, Melee attacks (Punches) and Athletics. A higher Body stat also lets you do crazy things like grab someone and use them as body armor. Great for chaotic builds.
Intelligence - Hacking. This is a Netrunner's bread and butter, and a higher hacking ability lets you do all sorts of crazy things like inserting malware into enemy's brains so they freak out and even manipulating the world around you. Great for stealth.
Reflexes - Blades, Rifles and Handguns. This likely includes the nifty Mantis Blade augmentations that V. has, alongside basic rapid-fire handguns and smart rifles.
Cool - Assassination (Pretty self explanatory, sneaking up behind enemies and taking them out) and Nerve, which might have something to do with fortitude in battle.
Technical - Engineering. We think this is the governing stat for upgrading your implant level for increased augmentations in and out of battle. A higher Technical skill might let you use more advanced Mantis Blades, for example, or let you equip that nifty eye implant that instantly translates foreign languages in real-time.
At the same time it looks like some of these perks might be connected to multiple attributes. The circuit paths might connect between many stats--for example, the two-handed path rolls all the way up to Sniper Rifles, and Blades carry down to the right towards Athletics and Melee. Assassination might be connected to both Cool and Intelligence, too.
So our explanation above may just be a very pedestrian understanding the system. Or maybe the circuit board is just over-stylized.
Gear
Like any major RPG, Cyberpunk 2077 lets you equip gear of set rarities. In the trailer we saw three rarities: Uncommon (U), Rare (R), and Exceptional (E). Sadly we didn't get to see stats of any armor or weapon pieces.
But the quick gear screen did give us a lot to go on.
CDPR says that all gear can be heavily customized and modded. There's lots of crafting options too, but those weren't shown off. There's six armor slots in the game:
and two accessory slots.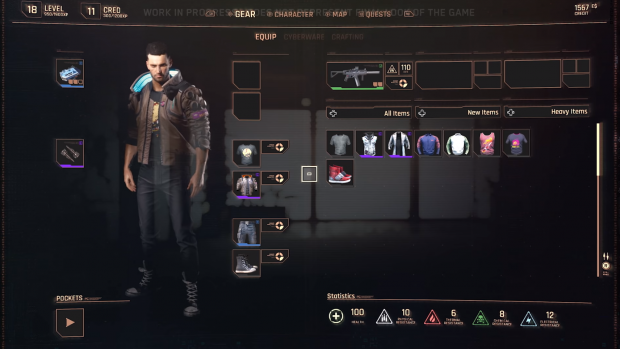 It looks like every piece of gear can have up to four modfications on them, but we're not 100% sure on this. Some might be purely cosmetic whereas others seem to have benefits in-game (jackets, for example, give you extra stat boosts).
Equippable armor and gear also affects your resistances and elemental affinity strengths. There's four different types of damage in Cyberpunk 2077:
Physical Resistance (probably punches, melee, impacts, etc)
Thermal Resistance (obviously fire, explosions, etc)
Chemical Resistance (Night City has acid rain so this helps)
Electrical Resistance (environmental hazards, shocks, etc)
Remember the environment is quite dynamic and enemies will often ignite things like fire barrels and smash through walls, so having specific resistance gear is helpful.
The weapons are much more exciting. You can equip up to three weapons at a time but we're not sure what kinds. I'd guess maybe a rifle, a handgun, and a big 2H weapon. Mantis blades and your built-in nano implant also have rarities.
Guns can be modified to include attachments and other boosts to raise DPS and utility in battle. The screen shows what appears to be 1/4 mod slots equipped, but there's also two squares that could indicate other attachments. Or maybe the radial dial doesn't equate to mod slots and the squares are the mods.
The guns can also have special ammo too which is pretty exciting. I love the idea of shooting toxic chemical ammo and baddies, or burning them with fire. Every enemy has a stat screen on your HUD that shows their weaknesses, so we'll want to exploit them accordingly.
Customization
CDPR recently said female and male genders won't be in the game, so this demo seems outdated. But we did get a sampling of the character creator's various options.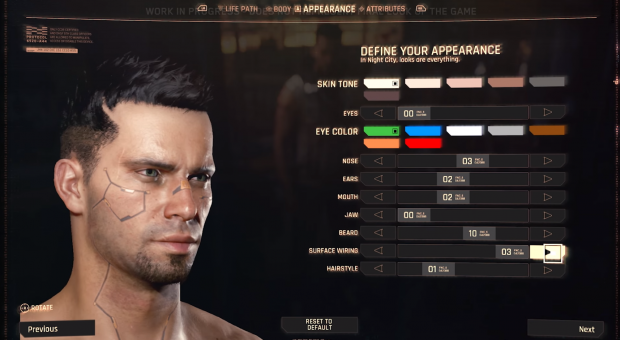 Players can adjust facial and cosmetic features including hairstyle and overall face orientation/color, and even lets you choose your backstory.
The backstory is tremendously important for gameplay and isn't just for flavor. Whatever choice you make will open up unique opportunities during critical story-branching points. Choose a Street Kid and you'll be able to easily win someone over who grew up in a poor metropolis zone, or pick Corporate to smooth things over with the corpo faction.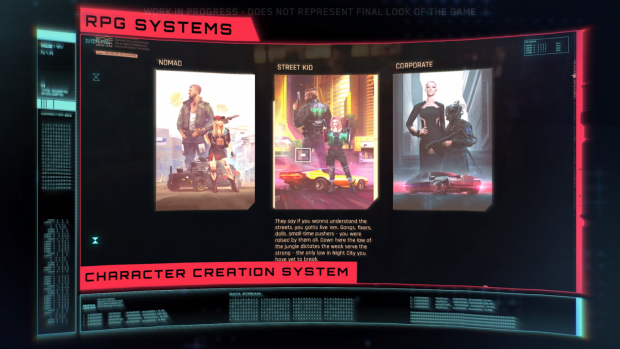 ----
Remember this is just a taste of what Cyberpunk 2077 will offer when it releases, and CDPR is constantly shifting and evolving the game. So what we've seen here today isn't totally indicative of the final product. The team still has 8 months before the game will ship and the project still hasn't gone gold yet.
Cyberpunk 2077 will release April 16, 2020 on PS4, Xbox One and PC. The Stadia port will come sometime later in 2020.
Related Tags