The US Federal Aviation Administration (or FAA) has banned certain Apple MacBook Pro laptops on US flights after Apple began recalling 15-inch MacBook Pro models over batteries that can overheat, and create a fire safety risk.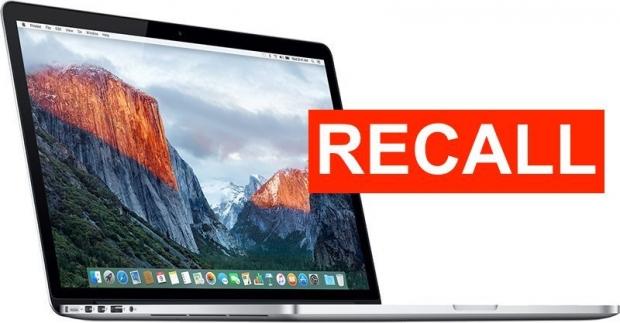 Apple said back in June that it had "determined that, in a limited number of older generation 15-inch MacBook Pro units, the battery may overheat and pose a fire safety risk". Now the FAA has chimed in saying that it was "aware of the recalled batteries that are used in some Apple MacBook Pro laptops" and has since communicated with all major US airlines about the ban.
The FAA put its foot down with US airlines reminding them about 2016 safety rules for products with recalled batteries. These laws means that the affected Apple laptops, MacBook Pro models sold between September 2015 and February 2017 (that is a lot) cannot go on a flight on domestic or international flights into, and out of the US.
The bigger issue here is that most MacBook laptops look the same... so the TSA will be going through millions of bags per day with hundreds of thousands if not millions of Apple MacBook laptops. This means after a few days or weeks of this anything with an Apple logo on a MacBook (MacBook Air, normal MacBook, and MacBook Pro) will be flagged.
How do TSA officers even tell the difference between a MacBook Pro from 2013 and 2015, or 2016 and 2018? It would require a massively increased effort and re-education of TSA staff having to confirm it is indeed a MacBook Pro purchased between September 2015 and February 2017.
It seems you'll soon need your papers and invoice for your MacBook Pro to confirm when and where it was purchased, or you won't get on your flight. Apple, right now has a major problem that could turn much worse -- I see countless Apple laptops when I travel around the world. This is a hard one.
It's not just in the US either, with four cargo airlines in TUI Group Airlines, Thomas Cook Airlines, Air Italy, and Air Transat all banning the laptops from being put into cargo.
A TCE operations coordinator recently wrote to employees saying: "Please note that the 15-inch Apple MacBook Pro laptop, sold between mid-2015 to February-2017 is prohibited on board any of our mandate carriers".