Activision makes $800 million from live services in Q2 2019
66% of Activision's total Q2 net bookings were from live services.

Published Tue, Aug 13 2019 4:42 PM CDT
|
Updated Tue, Nov 3 2020 11:47 AM CST
Ever the king of monetization, Activision reigns by pulling in $800 million from microtransactions, subscriptions and DLC last quarter.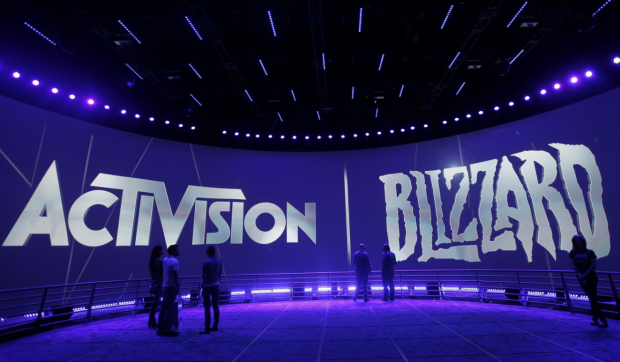 Activision's three segments--King, Blizzard, and Activision proper--all make for a lucrative money-printing digital powerhouse. Thanks to its immensely replayable online games, the company routinely earns more cash from monetization in one quarter than some publishers earn all year. Its most recent Q2'19 period was no different, and Activision pulled in $800 million from live services from April - June. This represents 66% of the total $1.21 billion in net bookings for the period.
In lieu of big frontline releases, Candy Crush developer King made the lion's share of microtransaction earnings with its free-to-play mobile game. But other segments didn't suffer--far from it. Activision pulled in $268 million in net revenues, driven by Call of Duty Black Ops 4 and Crash Team Racing, and Blizzard is in second place with $384 million, driven by continued monetization and sales across its fleet of multiplayer titles (World of Warcraft, Diablo III, Overwatch, Hearthstone, etc).
Overall performance was down from Q2 2018, however. Net revenues slid roughly 15% to $1.396 billion (from last year's $1.641 billion), and operating income dropped 23% to $336 million (compared to last year's $443 million). Digital revenues are still strong at roughly 78% of total net revenues, which is exactly where Activision wants them.
Activision Chief Operating Officer Coddy Johnson explains:
"In-game content, features and services delivered approximately $800 million of in-game net bookings this second quarter. King was the biggest contributor with Candy Crush again the top grossing franchise in U.S. app stores as it has been for the last two years and King's advertising business continues to ramp with net bookings growing sequentially and doubling year-over-year. The business remains well on track to exceed $100 million dollars in net bookings this year."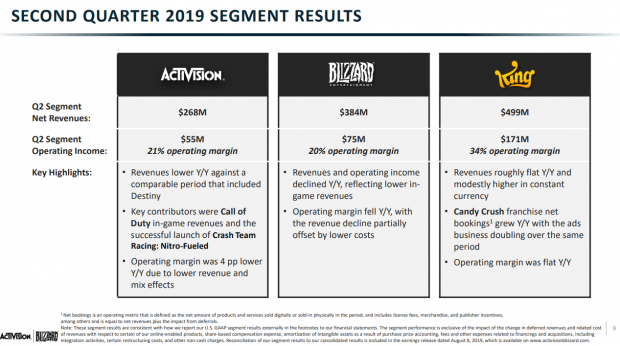 Activision's new business model is taking effect this year, and it expects to earn quite a bit less than last year. The company plans to focus on a four-part roadmap that includes: new game releases, live services, mobile ports, and new engagement models.
Although the company's Calendar Year 2019 forecasts have been upwardly revised roughly 3% from $6.029 billion to $6.190 billion, these estimates are down 21% from last year's record-breaking $7.5 billion. The idea here is Activision-Blizzard is gearing up for a future of inter-connected service-driven games with cross-compatible play on any system. It'll be the company as we know it now, only more ambitious and widespread.
Call of Duty: Modern Warfare will be a huge contributor to these earnings and is poised to tap Activision's new four-pronged plan with cross-play on multiple systems, a robust array of live services that rival any other game in the franchise, and a compelling campaign full of visceral action.
Blizzard should also have its own headline-sparkers with Diablo IV's reveal at Blizzcon 2019.
Related Tags