AMD's new Zen 3 design complete, Zen 4 will be ready in 2021
Zen 3 is finished and arrives in 2020, while Zen 4 is in design and arrives in 2021.

Published Fri, Aug 9 2019 10:27 PM CDT
|
Updated Tue, Nov 3 2020 11:47 AM CST
AMD has had a busy year so far, launching its new Radeon VII on 7nm with 16GB of HBM2, and then came the Ryzen 3000 series launch powered by the exciting new Zen 2 architecture also on 7nm.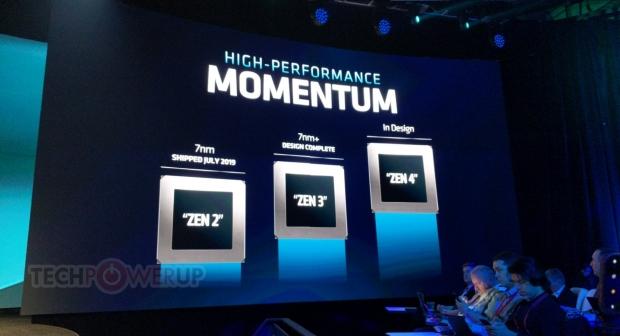 Just a couple of days ago AMD continued its winning streak with the release of its next-gen EPYC Rome CPUs, with up to 64C/128T of power that demolish Intel's current, and most likely next-gen offerings. The Zen 2 architecture powers the new EPYC processors, and now that it's here it's time for the Zen 3 hype train to begin.
AMD will be doing some exciting things with the Zen 3 architecture, something that will include the shift to 7nm EUV process which paves the way for even denser transistor counts, and could deliver even better power efficiency and higher CPU clock speeds. Better yet, Zen 3 could rock new ISA instruction sets.
Zen 3 could debut in 2020 alongside next-gen Ryzen 4000 series CPUs, while Zen 4 will arrive in 2021 and beyond and be even more exciting. AMD will have had over 12-18 months on the new 7nm node so we could expect more cores per chiplet (oh boy!) and/or move to the new 6nm EUV node.
Exciting times ahead for AMD fans, that's for sure!
AMD Ryzen 5 3600X 6-Core, 12-Thread Unlocked Desktop Processor (Ryzen 5 3600X)
Related Tags