Obsidian's new Outer Worlds RPG is coming to Nintendo Switch
Obsidian's big new Fallout New Vegas in space RPG getting crammed to Nintendo Switch.

Published Tue, Jul 30 2019 2:12 PM CDT
|
Updated Tue, Nov 3 2020 11:47 AM CST
Obsidian's new singleplayer-only sci-fi RPG shooter is coming to the Nintendo Switch, but we don't have a release date just yet.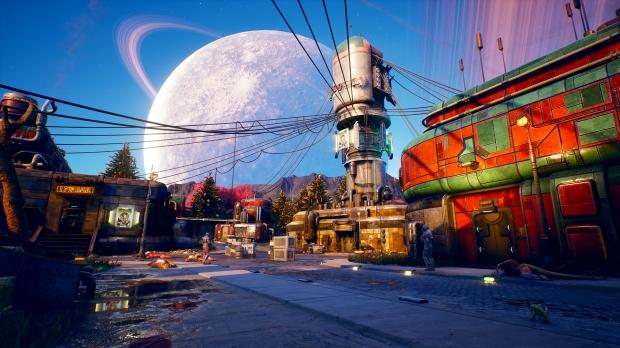 Obsidian is working with outsource dev Virtuous to port The Outer Worlds on Nintendo's handheld-console hybrid. The Switch port will delayed to an undetermined period and won't launch in October alongside the PS4, Xbox One, and Epic Store flavors, the devs confirmed.
This could be an iffy gamble on Obsidian's part, but I'm betting Private Division, the Take-Two Interactive spin-off label funding the project, has final say in the matter. Running games on the Switch usually involves significant compromises in frame rates, visuals and graphics, and overall performance, so we can expect The Outer Worlds to mirror similar trade-offs (maybe ~600p 30FPS handheld, 720p 30FPS docked?). Sure the Switch is getting a 16nm Tegra X1 revision to improve thermals, battery efficiency, and shore up a backdoor hardware fault that led to hacking, but it's not getting any kind of CPU or GPU boosts.
And of course there's the new Switch Lite, which is a $200 handheld-only system that can't be docked, so it's limited to lower handheld performance in every game.
The bottom line here is this: The Outer Worlds should run worse on the Switch due to the system's lower-end power, but that might not inhibit gameplay too much. Private Division's goal here is to maximize sales by bringing the game to as many platforms as possible, and the Switch has grown to a huge 36.87 million install base.
"I'm super excited to take the role-playing experience we have and be finally able to play it on a handheld platform. Today we can play a full experience on the go anywhere you want, and something like The Outer Worlds...hopefully we can find a new audience for people that may not have even had these types of experiences before," said Matthew Singh, Senior Producer at Obsidian Entertainment.
The Outer Worlds releases on October 26, 2019 on PS4, Xbox One, and PC, and later on the Nintendo Switch.
Related Tags