Fallout 76 adds more paid convenience items
Bethesda adds even more non-cosmetic microtransactions that affect gameplay.

Published Thu, Jul 18 2019 7:31 PM CDT
|
Updated Tue, Nov 3 2020 11:48 AM CST
Despite Bethesda promising otherwise, Fallout 76's microtransactions aren't completely cosmetic and haven't been for some time. Now the studio has added a second convenience item that allows gamers to pay for in-game shortcuts.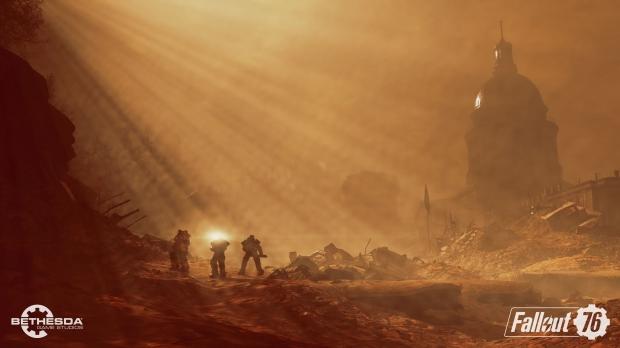 Fallout 76's microtransactions were never totally cosmetic--you could buy generators in the Atomic Shop to power your bases' turrets for use in PVP and PVE--but most gamers didn't notice until Bethesda rolled out convenience items. These new items are called utilities and have an actual tangible effect on gameplay (mostly reducing the intense stress and tedium Fallout 76 brings).
First there were repair kits, which instantly repairs an item to full 100% condition, and now there's scrap kits, new items that cut frustration quite a bit. Scrapping is a big part of Fallout 76, and you're constantly picking up junk to break down at workbenches. It gets old very, very fast. But now Bethesda is selling you a shortcut that removes that tedium and lets you scrap everything at once! All for the low cost of $0.50 a pop!
"Scrap Kits are new one-time use items that you can use to scrap all the junk you're currently carrying and immediately deliver the resulting components to your Stash. They can be used anytime, anywhere, without needing to visit a workbench or your Stash."
Scrap Kit Pricing Scheme:
Scrap Kit - 50 Atoms ($0.50)

Scrap Kit x6 - 250 ($2.50)

Scrap Kit x15 - 500 ($5.00)
Read Also: How Fallout 76 fails as a service game
Essentially what Bethesda is doing is monetizing a solution to a problem they created and refuse to fix. It's a clear example as to how bad Bethesda's understanding of service games actually is.
Fallout 76 is designed to be a very grindy, frustrating game that requires lots of micro-management and time-wasting inventory sorting. It's kind of like the worst simulator that constantly punishes you for finding items or wanting to collect materials.
So the best way to burn your bridges is to not relent and fix some of the grindier aspects, but instead sell remedies to issues that didn't need to be there in the first place. How else will you monetize a service game that forgot how to be fun?
If that wasn't enough, fans are already quite pissed about the new 11.0 patch that broke a ton of things in Fallout 76, from power armor to huge issues with the CAMP customizations and even players being killed for no reason.
Fallout 76 is a mess and will continue to be a mess until Bethesda is not only willing to change the game, but willing to change their monetization model.
Related Tags