New Halo: Reach PC flight tests Firefight, the best mode
Firefight, aka the best Halo mode, is the focus of the next Reach PC test flight.

Published Jul 16, 2019 3:17 PM CDT
|
Updated Tue, Nov 3 2020 11:48 AM CST
On the heels of a successful campaign test run, 343i's next closed beta will concentrate on Halo: Reach's Firefight mode.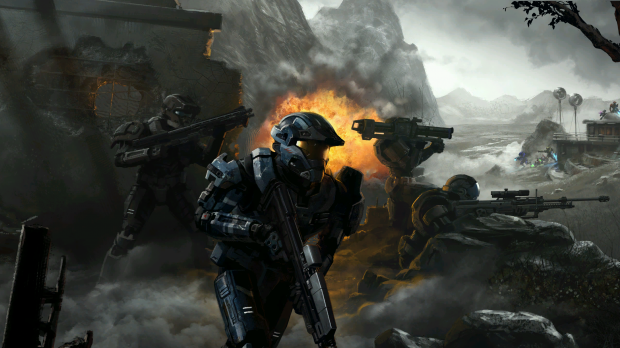 FIREFIGHT! SET START!
Halo: Reach is a huge game that offers something for everyone: it has solo or split-screen campaign for offline gamers, campaign matchmaking for team play, Firefight solo or online play with others, custom Firefight, custom games, and an array of PVP matchmaking options. To get the full game running on PC, all these moving parts will get their own testing phases. First we had a very limited campaign test where less than 1,000 people got in, and now we're getting Firefight matchmaking.
343i confirmed the next flight is all about Firefight, aka the best mode ever invented, and is slated to launch later this month. It's an arcade-style survival gauntlet that pits you against teeming hordes of enemies that progressively get stronger, complete with vehicles and huge chaotic sandbox maps. Toss in some pre-defined loadouts for team-based action and you have a recipe for complete carnage-inducing awesomeness.
Sadly, this test should be likewise as limited. It's pretty frustrating because everyone wants to try Halo Reach on PC...but our time should once the game is released later this year (if it's not delayed, that is).
"This first flight has done its job in helping to fully validate the scalability of our system as well as the hardware configurations. With these learnings, we can continue to scale and progress towards our next flight which should focus on Firefight Matchmaking," 343i's Postums said in a recent update.
"FireFlight is the team's next flighting goal which will offer Firefight matchmaking to you on PC. While things may shift, we're currently targeting this milestone for later this month. The team is beginning to review release candidates that have the core features to support this flight. Keep your eyes out for upcoming news articles in the near future!"
For a chance to get selected, you have to sign up as a Halo Insider and submit diagnostics of your PC build.
I'm a huge Firefight fan, so I can't wait to try this out. I've actually only ever played Firefight in Reach--I've never played a single PVP match--and was utterly hooked as far back as ODST (I still contend ODST's Firefight is the best, though).
Related Tags