Super Mario Maker 2 is more ambitious than first expected
Super Mario Maker 2 will feature next-level as showcased in a 20 minute long Nintendo Direct.

Published Thu, May 16 2019 3:00 AM CDT
|
Updated Tue, Nov 3 2020 11:48 AM CST
Now that Nintendo has finished their Super Mario Maker 2 dedicated Nintendo Direct, we can sit down and compile each of the new features the upcoming game has has in-store for players.
Yesterday I reported on Nintendo announcing that there would be a Direct dedicated to the upcoming sequel of Super Mario Maker, Super Mario Maker 2. We previously have had some new features showcased to us but now Nintendo has done a deep dive into what is new about the coming game and what has been improved since the last one.
Just to summarize things to make it a bit easier, Super Mario Maker 2 will comes with a ton of new features, some include; Super Mario 3D World style, a multitude of new building and customization options, co-op and versus multiplayer and many more online tools. A full features list has been compiled within the entirety of this post, for more information head on over to the official Super Mario Maker 2 Nintendo eShop listing here.
Super Mario 3D World style:
The ability to play as Cat Mario

Transparent pipes

Warp box

Spike block

! Block

Blinking phase blocks

Tracking blocks

Mushroom trampolines

Piranha Creepers

Skipsqueaks who time their jumps with Mario

Charvaargh lava monsters

Pom Pom

Banzai Bills that can fly towards the screen

Cat Bowzer

A Koopa Troopa car, because why not?
Multiplayer: 4 people online/local
Multiplayer Versus mode which challenges you to get to the goal first. Winning will raise your versus rating.

Multiplayer Co-op mode - one person gets to the goal and everybody wins!
Course World:
Browse by popular courses, or use tags.

Comment on courses

New Maker profiles you can dress up with various cosmetics.
More Features:
Slopes

That goddamn Angry Sun

Snake Blocks

Red and Blue Switch blocks

On/Off switches

See-saws

Swinging Claws

Changing water or lava levels

Set scroll rates

Vertical sub areas

Banzai Bill

Dry Bones shell

10 Coin

New Sound effects

Twister enemies

Icicles

Parachutes

Boom Boom

Desert, Snow, Forest, and Sky themes

Day/Night system. Gameplay will change in subtle ways during the night.

New music from legendary original Mario composer Koji Kondo!
Super Mario Maker 2 will be launching on June 28th exclusively for the Nintendo Switch.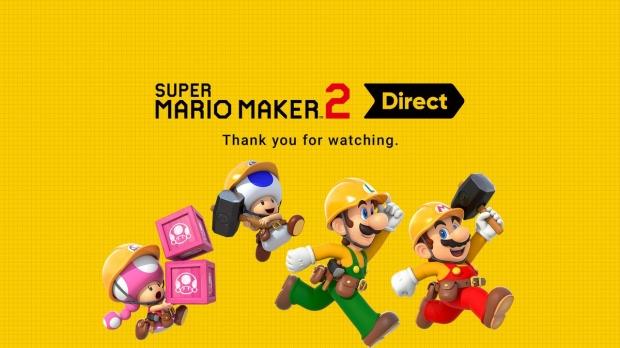 Related Tags