HDD shipments could drop 50% this year, 2020 will be worse
HDD sales continue to dwindle, shipments down from 650 million in 2010 to an expected 290 million in 2020.

Published Mon, May 6 2019 11:47 PM CDT
|
Updated Tue, Nov 3 2020 11:48 AM CST
As the world moves away from physical storage, HDD makers are selling less and less and according to Japanese motor manufacturer Nidec, HDD shipments will only continue to drop this year and more so in 2020 and beyond.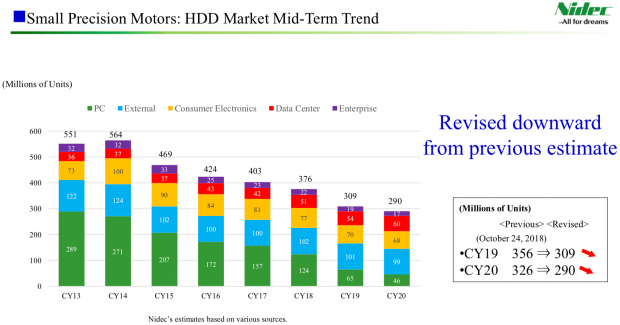 Nidec has been supplying spindle motors for HDDs for a very, very long time and now the company is predicting HDD sales will drop as much as 50% this year, and more so in 2020. Nidec adds that their spindle motors are found inside of around 85% of products on the market, so their predictions hold some merit and talk about growth in other areas like home appliances, automotive, and 5G technologies.
Nidec's own data shows that HDD sales dropped from 650 million to 375 million between 2010 and 2018, a big drop of 43% but sales will continue to drop this year with revised shipment forecasts for 2018 down to 309 million. 2020 is even worse according to Nidec's shipment forecasts, with just 290 million HDDs expected to be shipped.
This is the entire HDD market but what about just HDDs inside of PCs and notebooks? Yeah those sales are hit the worst dropping from 389 million units to just 124 million last year, 65 million expected this year and only 46 million in 2020.
Related Tags