The Mad Box was always an outlandish and iffy proposition. Investors apparently think the same, and Slightly Mad has lost a lot of the funding needed to make the console happen.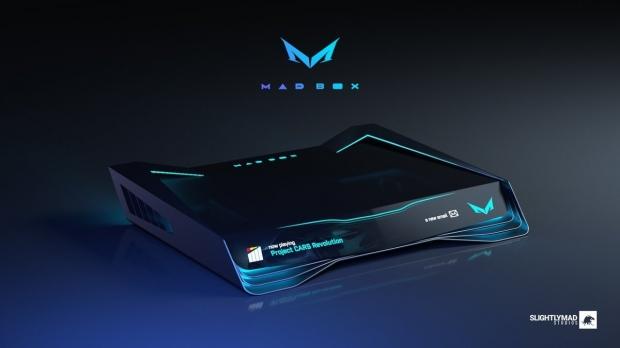 For some bizarre reason, Slightly Mad Studios, the devs behind Project Cars, decided they want to make a video games console. But not just any games console--the most powerful one on the market. Nevermind the absurdity of entering a market absolutely dominated by Sony, Micorosft, and Nintendo. The so-called Mad Box would sell based on its raw next-gen power alone, and studio exec Ian Bell promised big performance with native 4K gaming and VR at 120FPS. It was a ridiculous notion then, and is still ridiculous today.
Investors apparently agree with this assessment. Two of the Max Box's biggest backers have dropped out and won't be putting up the required millions and millions to fund the console. Bell says these investors were dissuaded thanks to Google's Stadia game streaming platform, and the latest hardware details on next-gen consoles could seal the Mad Box's fate and ensure no one puts up money to fund the system.
"Two investors pulled out after the announcement of Stadia. All I can say at this stage is the future of the project is questionable," Bell said in a recent interview with PC Games Insider. To be 100% fair, the Mad Box's future was always questionable.
The funding loss comes shortly after the Mad Box's trademark filing was withdrawn on the European Union Intellectual Property Organization's database for being too similar to a French games-maker.
At this point the Mad Box probably won't happen. And honestly, that's a good thing for everyone involved. The console market is about to get even more congested as classic games-makers like Atari and Intellivision ready their own systems.
Atari is making the Atari VCS, a modern system with AMD Ryzen tech that also plays classic games and features multimedia playback, streaming, and an online storefront. It's an iffy bet at $249, but it's way more secure than Slightly Mad's crazy ambitions.
Intellivision has a cheaper, lower-end system on the way called the Amico. The Intellivision Amico is aimed at family gaming and only costs $150, plus the games won't cost more than $7.99. It'll have an online store to buy new content as well as old classic Intellivision titles and comes with two weird old-school paddle controllers.
With a new Atari and Intellivision on the way, and a market completely reigned by the likes of Sony, Microsoft, and Nintendo, there's simply no room for a weird over-promised system that could ultimately flounder against the competition. Slightly Mad should save itself and its investors a lot of grief and just shelve the idea and focus on what it does best: making video games, not consoles.