GTA 6 microtransactions likely, should follow GTA Online
History tells us GTA 6 should be monetized, but it could take a long, long time before it's ready.
Published
6 minute read time
It's no surprise Rockstar Games is making a new Grand Theft Auto. The franchise is a billion-dollar juggernaut and GTA V is the best-selling entertainment property in history. And sadly, it's not very surprising GTA 6 should be monetized with its very own Grand Theft Auto Online mode.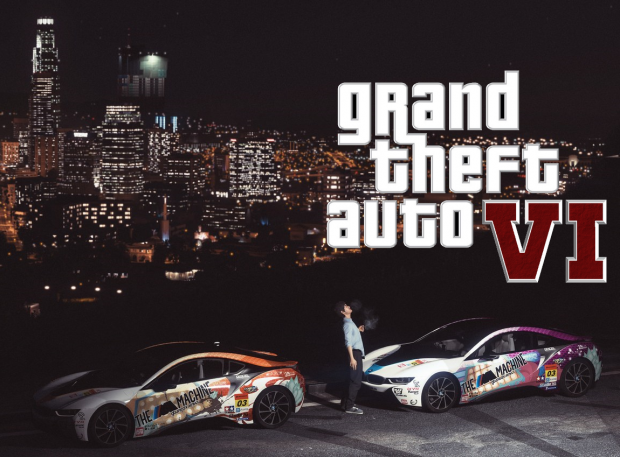 Current and past industry trends give us both short- and long-term visibility into the future of gaming. Coupled with successful business models like the billion-dollar microtransaction market and key investor incentive strategies, these trends arm gamers, analysts, and experts with foresight to predict how the industry will unfold. Monetization is a big part of this foresight, and we can use these tools to anticipate how big franchises like Grand Theft Auto will take shape.
According to a Rockstar Games artist's resume, Grand Theft Auto 6 is happening, but in pure Rockstar fashion, we don't know what, where, or when. We've heard buzz on it since 2015, and recent reports say it'll be a timed PlayStation 5 exclusive. We don't know much about GTA 6, but based on Take-Two's trajectory, Rockstar's push towards live services, and internal company incentives, it should have a monetized online mode similar to GTA Online and Red Dead Online.
Take-Two Interactive, the publisher that funds, markets, and produces Rockstar's massive games, has a penchant for what it calls recurrent consumer spending. That's just a fancy word for microtransactions, subscriptions, and DLC. All of Take-Two's biggest games have online modes with specific grind mechanics and spending opportunities, allowing consumers to buy in-game items to save time. In live games users spend one of two things: time, or money. Even if you've spent a lot of one or the other (or both), publishers always want more.
This repeating engagement cycle, which continually adds new content to online portions of games complete with new avenues of spending, is what makes companies like Activision-Blizzard, EA, and even Take-Two billions every year.
Right now microtransactions seem to have hit a ceiling for some publishers like EA and Activision-Blizzard, but not Take-Two. The GTA publisher's strategy is--and has been--working quite well.
Recurrent consumer spending typically makes up to 48% of Take-Two's total yearly revenues, which says a lot when games like GTA V have sold 95 million copies. Take-Two made 24% of its Q3 revenues from in-game purchases, or roughly $300 million, representing a huge 95% year-over-year spike.
The biggest cash crop is far and away GTA Online, a mode that's raked in over $1 billion in microtransactions since its release and is only now starting to moderate.
Rockstar aimed to re-capture GTA Online's lightning-in-a-bottle success by attaching another free online mode to a big premium franchise. This time it chose Red Dead Redemption 2 and rolled out Red Dead Online, a microtransaction-fueled online world with both PVE and PVP elements. Take-Two and Rockstar are aiming at smashing both of gaming's biggest metrics: short-term earnings with full game sales, and long-term growth with online-driven monetized modes. So far they've won big with Red Dead Redemption 2's sales, which amassed over $725 million in three days.
But Red Dead Online isn't nearly as accessible as Grand Theft Auto, and analyst firm SuperData says the mode has made 5 times less than GTA Online.
What's Rockstar to do? Try again, of course, and keep doing what it does best: making some of the best games in the entire industry.
Grand Theft Auto 6's online mode could even have a unique cross-play opportunity with GTA Online, kind of merging the two games in a fundamental way. This would be absolutely huge and propel both games via microtransaction earnings.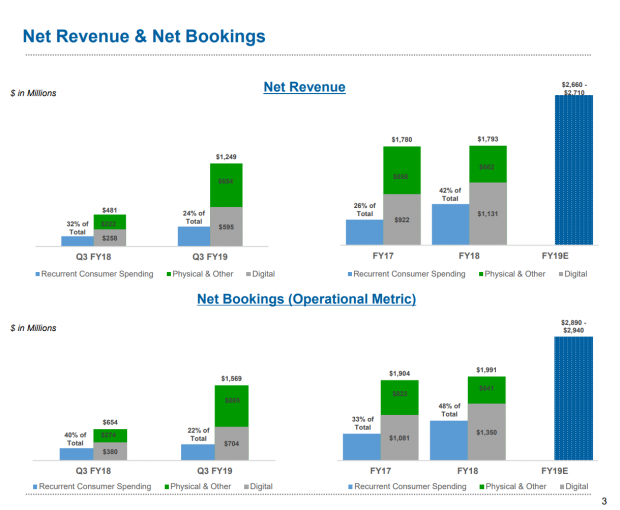 Take-Two's Q3'19 earnings show growth in key metrics, including digital game sales and microtransactions.
Read Also: Take-Two doubles down on live services
Predictably enough, investors greatly approve of Take-Two Interactive's business model. Games like GTA Online, NBA 2K, and a handful of mobile games rake in hundreds of millions every year. Investors favor this live-service business model so much they even greenlit a special incentive that greatly rewards Take-Two's biggest stakeholder, ZelnickMedia, when it makes money from microtransactions and sales.
In short, the more money Take-Two generates from microtransactions and full game sales, the bigger the rewards. If certain metrics are met, ZelnickMedia gets to vest a huge number of restricted stock after a three-year period. Based on the company's current success, Take-Two issued 223,772 restricted shares to ZelnickMedia just five days ago.
The stock will be vested, or cashed in, throughout 2021 which is quite interesting timing: it's when Sony's PlayStation 5 and Microsoft's Xbox Scarlett next-gen consoles should be out.
We're not saying GTA 6 will be ready in 2021 in time for next-gen consoles, but if it is, Take-Two stands to earn insane cashflows from sales and possible monetization of the game's impending online mode. No one knows what Rockstar is up to except for Rockstar and Take-Two, and both companies are notoriously coy on Grand Theft Auto details.
Now Take-Two has a literal two-fold vested interest to push towards microtransactions. One, it wants to please investors, rake in cash to fund new development projects, and raise the share prices with favorable quarterly earnings; and two, company CEO Strauss Zelnick stands to directly benefit in two separate ways from Take-Two's growth.
"A hallmark of our approach is finding new and exciting ways to drive engagement through a creativity and innovation. The execution of this philosophy results in our audiences remaining immersed in our titles well after their initial launch and has been a key driver of our ongoing success. This is reflected in the strong growth and engagement and recurrent summer spending on our titles over the past several years," Take-Two CEO Strauss Zelnick said in a recent Fiscal Q3'19 earnings call.
To investors, Take-Two said the following in its 2018 annual report:
OUR KEY ACHIEVEMENTS

We delivered record digitally-delivered net revenue and Net Bookings. Digitally-delivered net revenue grew 23% to $1.13 billion and digitally-delivered Net Bookings grew 25% to $1.35 billion.

We generated record net revenue and Net Bookings from recurrent consumer spending. Recurrent consumer spending accounted for 42% of total net revenue and 48% of total Net Bookings.

Grand Theft Auto V and Grand Theft Auto Online continued to exceed our expectations in fiscal 2018 - as they have in every year since their release nearly five years ago - with combined Net Bookings from the titles growing year-over-year. Grand Theft Auto V has sold-in over 95 million units, reflecting its status as the highest-rated title of the current console generation and the "must have" game for purchasers of PlayStation 4 and Xbox One. Moreover, Grand Theft Auto Online broke monthly audience records in June, July and December, added more new users than in fiscal 2017 and delivered its biggest year yet for virtual currency sales. Rockstar Games achieved these results through the ongoing release of a wide array of free additional content."
So we should see Take-Two continue infusing live services into its biggest games (Borderlands 3 should also be monetized in some way, likely with cosmetics) for long-term revenues. Its annual sports games are a given, and from where we stand, so are Rockstar's marquee titles...especially Grand Theft Auto.
We may get more clues when Take-Two Interactive reports its Fiscal Q4'19 earnings on May 13, 2019.
Related Tags