Borderlands 3 is bringing some welcomed changes to loot and co-op, and introducing some absolutely bonkers guns.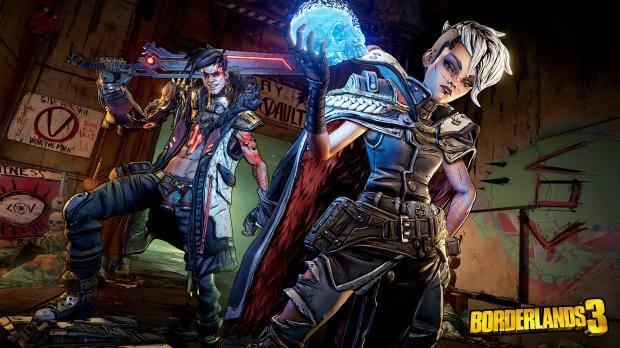 Wither Borderlands 3, Gearbox wants to go all out. Not only is the game absolutely massive with 1 billion guns, off-planet travel, full synergy with AMD's latest PC hardware, and four new vault hunters with unique customizable skills, but it'll change how gamers play co-op in a few key ways.
Gearbox confirms Borderlands 3 will have couch co-op with two loot drop modes: the classic Diablo-style shared drops where anyone can pick up anything like in Borderlands 2, or a new mode that has loot instanced and separated to each individual player. Both modes can be activated online or in couch co-op sessions.
"One of the things that I'm most excited about in Borderlands 3 are the improvements that we've made to co-op. Regardless of your respective levels or mission progress, you and your friends can play together online or on the couch, and not only will each of you deal a meaningful amount of damage, you'll also receive your own discrete loot stream," Gearbox's art director Scott Kester said in a recent PlayStation Blog update.
"No more loot ninjas! Of course, if you prefer to play with classic Borderlands 2 co-op rules-where loot is shared-you can choose to do so."
Gearbox also confirmed some interesting details about Borderlands 3's guns. Apparently the game will have special badass firearms that shoot volcanoes, and weapons even have hybrid elemental attacks for guaranteed chaos. And there's even guns with legs that will shout coarse language at your foes like a demented Claptrap.
"Looking for something a little crazier? Okay, how about rifles that spawn fire-spewing volcanoes, or guns that grow legs and then chase down enemies while verbally abusing them? We've got those too," Kester said.
Borderlands 3 looks pretty wicked so far. But PC gamers are still quite upset about the game's six-month timed exclusivity on the Epic Store and aren't so easy to get hyped about the sequel.
Borderlands 3 releases on September 13, 2019 for PS4, Xbox One and PC via the Epic Games Store. It'll be on Steam in April 2020.
Check below for more info:
The original shooter-looter returns, packing bazillions of guns and an all-new mayhem-fueled adventure. Blast your way through new worlds and enemies as one of four brand new Vault Hunters, each with deep skill trees, abilities, and customization. Play solo or join with friends to take on insane enemies, collect loads of loot and save your home from the most ruthless cult leaders in the galaxy.

Key Features:

A MAYHEM-FUELED THRILL RIDE

Stop the fanatical Calypso Twins from uniting the bandit clans and claiming the galaxy's ultimate power. Only you, a thrill-seeking Vault Hunter, have the arsenal and allies to take them down.

YOUR VAULT HUNTER, YOUR PLAYSTYLE

Become one of four extraordinary Vault Hunters, each with unique abilities, playstyles, deep skill trees, and tons of personalization options. All Vault Hunters are capable of awesome mayhem alone, but together they are unstoppable.

LOCK, LOAD, AND LOOT

With bazillions of guns and gadgets, every fight is an opportunity to score new gear. Firearms with self-propelling bullet shields? Check. Rifles that spawn fire-spewing volcanoes? Obviously. Guns that grow legs and chase down enemies while hurling verbal insults? Yeah, got that too.

NEW BORDERLANDS

Discover new worlds beyond Pandora, each featuring unique environments to explore and enemies to destroy. Tear through hostile deserts, battle your way across war-torn cityscapes, navigate deadly bayous, and more!

QUICK & SEAMLESS CO-OP ACTION

Play with anyone at any time online or in split-screen co-op, regardless of your level or mission progress. Take down enemies and challenges as a team, but reap rewards that are yours alone - no one misses out on loot.