US astronauts will land back on the Moon in just 5 years
In just 5 years we could see US astronauts take some more steps on the Moon's surface.

Published Wed, Mar 27 2019 3:00 AM CDT
|
Updated Tue, Nov 3 2020 11:49 AM CST
The US has just announced that within the next 5 years NASA plans to return American astronauts to the moon surface.
Vice President, Mike Pence has spoken on behalf of Donald Trump, President of the United States on returning American astronauts to the moons surface. Pence announced at National Space Council that the US is now planning on returning American astronauts to the moon within the next 5 years. The goal is to land the astronauts by 2024 and "establish a permanent presence there, & develop the technologies to take American astronauts to Mars & beyond."
While the time-line is certainly short, Pence expresses that when correctly motivated that the US can move efficiently and effectively towards their desired goal. Pence also talks about how the rockets that will be used will be built and launched from US soil, he even suggested that if required private rockets will be used to make success of the mission. Pence says that the US "must remain first in space" and that the "rules and values of space" need to be written by establishing a more suitable and permanent position.
It would truly be awesome if NASA and perhaps SpaceX joined forces to make this stretch goal a reality, I would love to see a high-quality livestream broad-casted from both inside the spacecraft with the astronauts and also outside the space craft.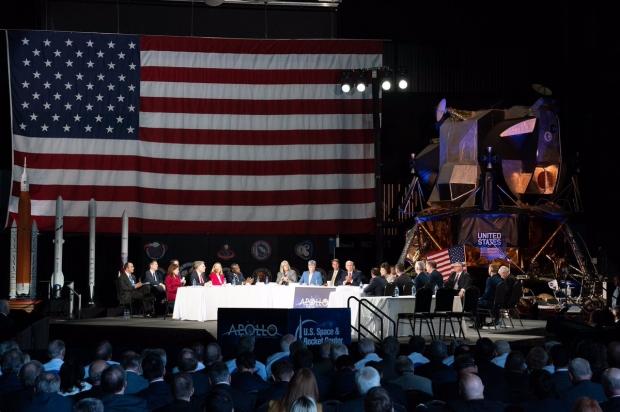 Related Tags