Valve CEO teases Half-Life 3 to release in next '4-5 years'
Gabe Newell just teased that a new Half-Life game will be released within the next 4-5 years, is Half-Life 3 real?

Published Tue, Mar 19 2019 4:00 AM CDT
|
Updated Tue, Nov 3 2020 11:49 AM CST
Update: Unfortunately, we have been made aware that this email is fake, we should of double checked the source and apologize to any Half-Life fans may of got excited over this post.
One of the most sought after releases in the gaming community is the third installment into the legendary Half-Life series. Now, Valve's CEO has just teased when that might happen.
Valve's CEO, Gabe Newell has decided to answer some fans questions through his email. Surprisingly enough Newell answered quite a few questions from fans, some examples include; What is your favorite toothbrush? what is your favorite pokemon? how was the process of working with 343 and Microsoft to get Halo on Steam? Answers in respective order are; Black, Snorlax and "The credit for this goes to Phil Spencer and his team at MS. They made it happen, so, yes, it was simple for us."
Included within one of Newell's emails was a question regarding the existence of Half-Life 3 and whether or not the person asking would see one before their life ends. The email read; "Was just wondering, will I be able to play a new chapter of half life before my life ends? Im 32 now." Newell answered quite simply, saying "Just don't die in the next 5 years or so ;)". Now that is quite the tease, could this be a next-gen Half-Life 3 that everyone has been patiently waiting for? Or a rebooted Half-Life VR game? Who knows, but we are sure to find out within the next 5 years.
Back in 2017, we had some news surrounding a new episode of Half-Life 3, some of the news said for the company to 'give up on Half-Life 3'. Gabe even said that "the number 3 must not be said".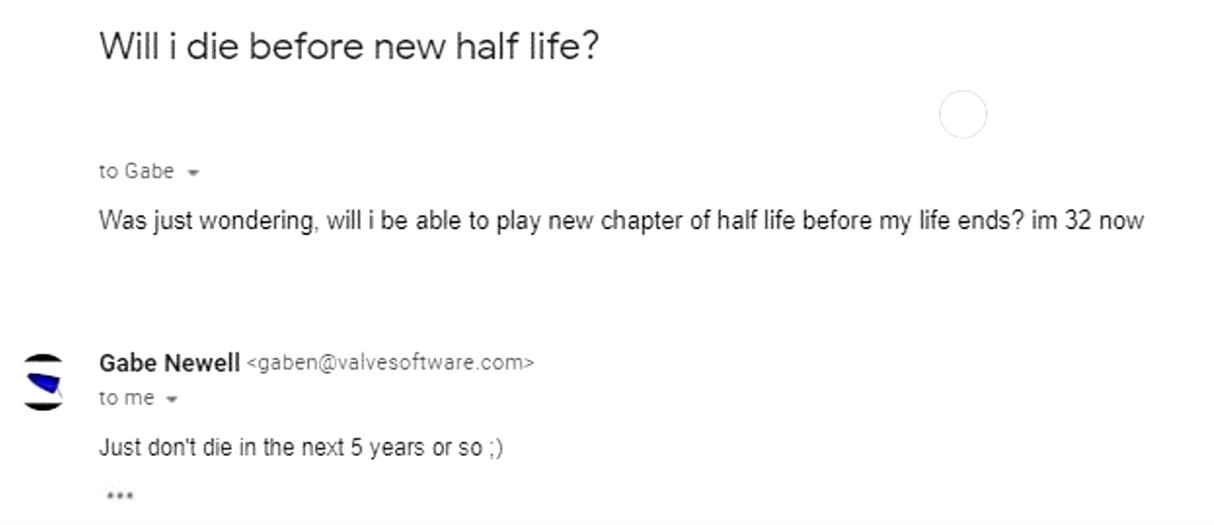 Related Tags