Apex Legends hits 50 million players faster than Fortnite
Apex Legends is growing at a faster rate than gaming's biggest billion-dollar earner.

Published Mon, Mar 4 2019 5:17 PM CST
|
Updated Tue, Nov 3 2020 11:49 AM CST
Respawn's red-hot 60-player battle royale Apex Legends is growing faster than Fortnite, and could eventually outpace Epic's titan.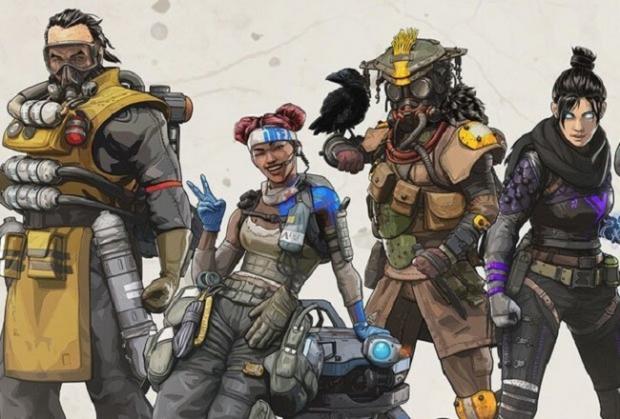 Within less than a month, Respawn's free-to-play Apex Legends shooter has hit 50 million players across the globe, a feat that took Fortnite four times as long to achieve. Niko Partners analyst Daniel Ahmad explains this growth with some simple stats:
Number of Apex Legends players after:

8 hours - 1m

1 day - 2.5m

3 days - 10m

1 week - 25m

4 weeks - 50m

Number of Fortnite BR players after:

2 weeks - 10m

6 weeks - 20m

11 weeks - 30m

16 weeks - 45m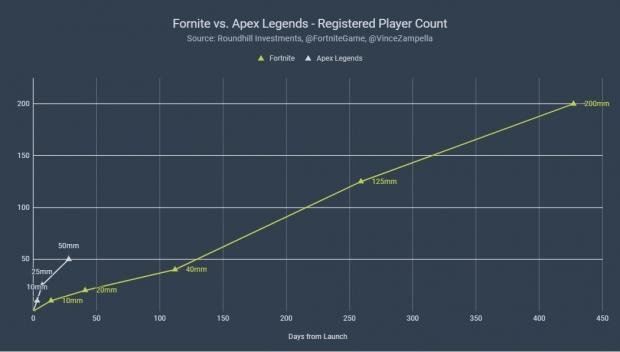 A huge playerbase is incredibly important to any free-to-play game, and Respawn has done extremely well in garnering positive feedback from users so it should retain these numbers. Gamers seem to be having a blast in Apex Legends and the more fun they have, the more likely they'll buy into monetized content.
Strongly favored mechanics like the ping system, fluid gunplay, and total havoc-inducing powers makes players much more likely to buy optional cosmetic microtransactions. No information on Apex Legends' actual earnings have been revealed so far, but we could get more info when EA announces its total year earnings in the coming months.
Apex Legends' playerbase is set to expand as Respawn adds new content like weapons, modes, heroes, and more. Recent leaks say the battle royale sensation will get Titanfall-esque mechanics like wall-running, titan mechs, and a bunch of new modes.
To really hit its stride and take on Fortnite's billions, Apex Legends needs a mobile port that's available worldwide on iOS and Android. EA says Apex Legends will come to mobile eventually and plans are currently for a smartphone version.
Related Tags