NASA snap HD pictures of most distant object ever explored
NASA has managed to snap some HD images and video of the farthest object ever explored.

Published Mon, Feb 25 2019 1:00 AM CST
|
Updated Tue, Nov 3 2020 11:49 AM CST
NASA has showcased their success over the weekend as the space agency has managed to snap some HD images and video of the farthest object ever explored.
The object titled "Ultima Thule" was encountered by NASA's New Horizons spacecraft while it was journeying through the Kuiper Belt. The New Horizons spacecraft managed to snap the "most detailed images of Ultima Thule" as it passed the object at precisely 12:33 a.m. EST on Jan. 1. The images were captured with New Horizons Long-Range Reconnaissance Imager (LORRI), the images offer a resolution of about "110 feet (33 meters) per pixel".
New Horizons Principal Investigator, Alan Stern commented on the achievement saying "Getting these images required us to know precisely where both tiny Ultima and New Horizons were - moment by moment - as they passed one another at over 32,000 miles per hour in the dim light of the Kuiper Belt, a billion miles beyond Pluto. This was a much tougher observation than anything we had attempted in our 2015 Pluto flyby". Now that NASA have these images, the space agency team is currently debating what the crater looking patches are on Ultima and how they were formed.
What is also extremely interesting is that New Horizons is about 4.13 billion miles (6.64 billion kilometers) from Earth, but after the images were taken it only took 6 hours and nine minutes for NASA's Deep Space Network to receive the radio signals since they were traveling at the speed of light. Now that is some truly amazing technology.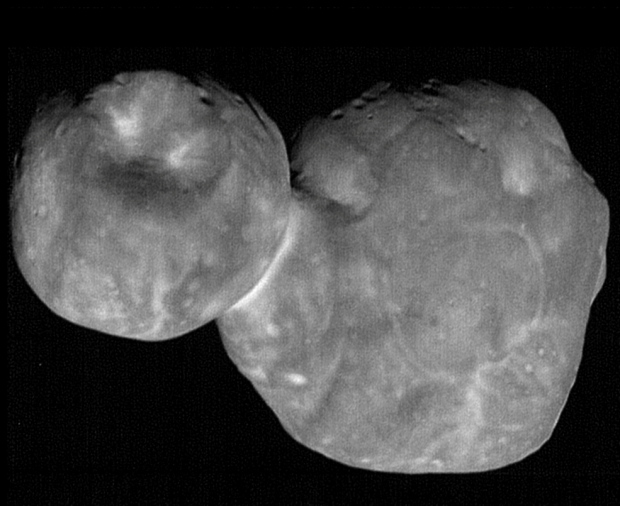 Related Tags