New Warhammer: Chaosbane - Dwarf Slayer ARPG trailer
A new trailer has been released for Warhammer: Chaosbane the Dwarf Slayer, Bragi Axebiter.

Published Wed, Feb 20 2019 4:00 AM CST
|
Updated Tue, Nov 3 2020 11:49 AM CST
Bigben Interactive and Eko Software have released a new video for Warhammer: Chaosabane, the Dwarf Slayer - Bragi Axebiter.
A new trailer for Warhammer: Chaosbane has been released showing off the sheer strength and might of the Dwarf Slayer. Dwarf Slayers are dwarves (obviously) that have taken an oath of the Slayer by vowing to cleanse his honour by dying epic and heroically in battle against a enemy of high stature. We are introduced to the Dwarf Slayer Bragi Axebiter who takes us through each of his strengths while in combat.
Players will be able to utilize Axebiters mobility with the angry Dwarf throwing his axe into an enemy and the carnage beginning as soon as the Dwarf starts swinging. Axebiter also has the ability to spin with his axes in hand dealing massive area-of-effect damage to everyone around him. Warhammer: Chaosbane is planned for the PlayStation 4, Xbox One and PC on June 4th, 2019. For more information, visit the official Steam page here.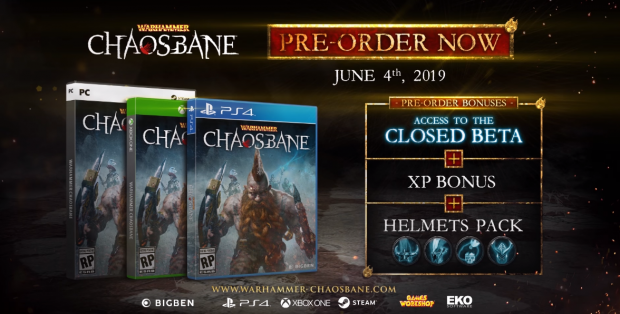 Related Tags