Deep Silver has just announced a super-limited edition version of its upcoming game Metro Exodus, with the Spartan Collector's Edition just announced and costs $235.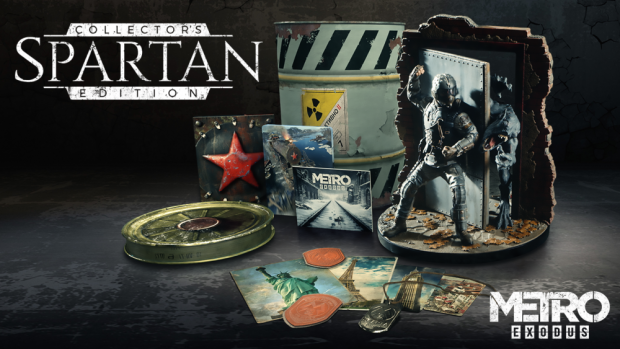 The Metro Exodus publisher has explained the Spartan Collector's Edition as "The Spartan Collector's Edition ships in a gigantic, barrel-shaped package, based on an in-game design that adds to the authenticity". The main part of it is the hand-painted statue of Artyom, the main character in the series, and it stands at a mighty tall 10.5 inches.
There's also the option of buying the Spartan Collector's Edition as a standalone item, or with a copy of The Aurora Limited Edition which includes a copy of the game, an expansion pass for Metro Exodus, and comes packaged inside of a custom metal outer case inspired by Metro Exodus' in-game locomotive which is called The Aurora. The Spartan Collector's Edition costs $149.99 on its own, or $234.99 when bundled with the Aurora Edition.
For $235, gamers will receive a copy of Metro Exodus as well as these exclusive goodies:
A Premium Artyom Statue: This highly detailed, hand-painted resin statue stands at 10.5 inches high and captures the iconic scene from the Metro Exodus announcement trailer of Artyom fighting off a deadly Watchman. Each statue is individually numbered.
Authentic Spartan Order Dog Tag: A finely crafted replica of Artyom's Spartan Order tag.
Artyom's Memories Collectible Postcards: Arytom's most treasured items are postcards from the world before it was devastated by nuclear war. Fans of the Metro series will recognize Artyom's collection, given to him by those he encounters on his journey.
Spartan Order Patches: Two authentic Spartan Order patches to wear with pride.