Red Dead Redemption 2 on PC: Take-Two dodges confirmation
Will Red Dead Redemption 2 come to PC? Take-Two won't say...but nixing PC would be a big missed opportunity.

Published Thu, Nov 8 2018 5:10 PM CST
|
Updated Tue, Nov 3 2020 11:50 AM CST
Although Red Dead Redemption 2 was built from the ground up for the current console generation, it's likely coming to PC at some point. But when? Take-Two Interactive won't say.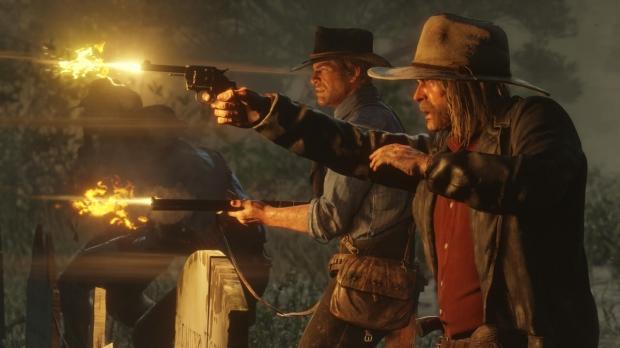 Red Dead Redemption 2 just launched to immense fanfare and incredible sales. The Western has shipped more than 17 million units globally, beating the original RDR's sell-in in just 8 days. Like GTA V, Rockstar will likely stagger the PC release of Red Dead Redemption 2 in an effort to resell the game on a new platform and establish a lucrative, bustling digital service with Red Dead Online. Nothing's been confirmed, though, and Take-Two is still mum on a PC release.
In Take-Two's recent Fiscal Year Q2'19 earnings, company CEO Strauss Zelnick danced around RDR2's possible PC flavor. When directly asked if the renegade outlaw adventure will arrive on PC, Mr. Zelnick said: "So, on Rockstar, we'd normally update everyone on upcoming releases and that would sort of answer all of your questions. ...in terms of ongoing releases, Rockstar will talk about what their intentions are going forward with regard to all upcoming products and that the same would hold true for platform. So, in this particular instance, I can't really give you too much clarity, apologies."
Read Also: Digital makes 73% of Take-Two's Fiscal Q2'19 revenue
That's about what we expected. Outside of annualized 2K sports games, Rockstar Games is Take-Two's cash cow and the developer typically gets free reign to do as it pleases and dictate its own content release schedule. Rockstar will tell Take-Two, and then Take-Two will tell analysts/shareholders/journalists...but only when the PC port is ready.
What about Red Dead Online? Surely there will be some parallels between it and GTA Online, which has made over $1 billion so far.
"But it's too early to talk about content updates for Red Dead 2 Online because it hasn't launched yet, obviously. Historically, obviously, we have updated content for our online offerings," Mr. Zelnick said in the Q2'19 earnings call.
Ultimately this doesn't give us much information. Obviously Red Dead Online will be continually updated with new content, and it will be monetized with in-game purchases.
And I'd be very, very surprised if Rockstar didn't bring RDR2 to PC simply because it'd net not only sales but also revenues gleaned from RDO; by not releasing on PC, Rockstar and Take-Two would miss out on another platform for both full game sales and continued earnings via microtransactions.
Related Tags