Red Dead Online to have PVE and GTAO-style Adversary mode
Red Dead Redemption 2's online component should take some queues from GTA Online.

Published Sun, Oct 28 2018 5:45 PM CDT
|
Updated Tue, Nov 3 2020 11:50 AM CST
Red Dead Redemption 2's new multiplayer mode could feature seamlessly-blended PVE alongside a remix of GTA Online's Adversary Modes.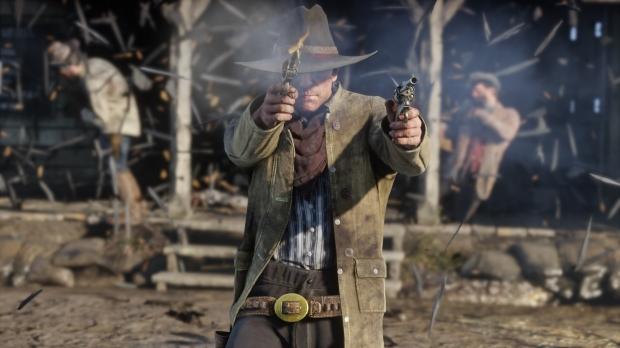 RDR2 just launched on consoles, but lots of nifty potential news is being gleaned from the mobile companion app about the Western's future content. Sources tell Rockstar Intel that Red Dead Online, the game's post-release online component, will mirror Grand Theft Auto Online in a few key ways. Adversary Modes are returning, datamined code from the companion app suggests, alongside private game sessions and what's referred to as "seamless PVE".
This shouldn't be a surprise given Rockstar's monumental success with GTA Online. We should see Red Dead Online take queues from GTA V's huge money-making mode--namely with microtransaction systems and engagement-driven events--to ensure familiarity. At the same time though Rockstar says Red Dead Online will have emphasis on co-op and story-driven elements set in the 1899 American Frontier.
"Red Dead Online is an evolution of the classic multiplayer experience in the original Red Dead Redemption, blending narrative with competitive and cooperative gameplay in fun new ways," reads the announcement post. "Using the gameplay of the upcoming Red Dead Redemption 2 as a foundation, Red Dead Online will be ready to be explored alone or with friends, and will also feature constant updates and adjustments to grow and evolve this experience for all players."
Sources also say the Rockstar Editor is coming to Red Dead Redemption 2 to allow creation of amazing screenshots and video content. Hopefully this will arrive soonish as I've wanted to take custom photo mode screens ever since I started playing.
Related Tags