Red Dead Redemption 2's horses are dynamic and realistic
Horses are more than convenient travel in Red Dead Redemption 2: they're trusted companions.

Published Mon, Sep 24 2018 5:49 PM CDT
|
Updated Tue, Nov 3 2020 11:50 AM CST
Rockstar's big new Western game puts strong emphasis on player-driven choice and a world that reacts to said choices, and horses will be a big slice of that experience.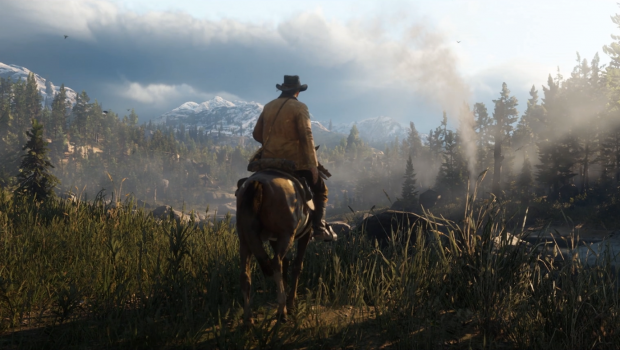 Constantly fleeing from lawmen into the wild frontiers of the old West and leaving a bloody trail, the Dutch Van Der Linde gang know the value of a steed. It's a beast of burden, a quick way to catch or escape, a companion, and even a commodity all-in-one. Your horse--and how you treat it--will be a big part of Red Dead Redemption 2's hyper-realistic immersion.
Everything you do (or don't do) while caring for your horse can change the game. Keeping your outlaw-to-horse relationship healthy is quite important, and typically translates to hunting to sell pelts, buying goods from stores, and taking the time to actually care for your stallion. Feed your trusty mount and it'll respond in kind by offering speed boosts; groom it and it'll raise its disposition towards you and get extra perks and bonuses. This sentiment isn't just for horses, though, and extends to the entirety of the game: take care of your camp by feeding them often and spirits remain high, don't wreak havoc in a town and the law won't come after you, etc.
In many ways Red Dead Redemption 2 mirrors the natural order of things, and Rockstar is keen on pushing this symbiosis to its limits.
Insofar as utility, horses provide tons of options that will enhance your experience in the frontier. They can hold items like clothes and guns, as well as pelts and even meat, in their saddlebags. They can be outfitted with gear like stirrups and better saddles to boost their proficiency. But remember RDR2 has a wide offering of breeds that are all different, so you may have to compensate specific attribute deficiencies with gear/equip-ables.
Read more: Red Dead Redemption 2 has players surviving off the land
Horses will also be a valuable tool in overall survival, as they'll be a means of travel from point A to B and also carry you to prey. Hunting is incredibly important this time around and players will have to eat and gain resources from slain animals.
Here's what Rockstar has to say about Red Dead Redemption 2's horses:
There are 19 breeds of horse in Red Dead Redemption 2 from Appaloosas and Arabians to Shires to Mustangs, each of which handles differently with its own defined characteristics. Horses can be captured and broken out in the wild, purchased from stables or acquired by more underhanded means, of course.

Your horse is your constant companion, and you will rely on them just as heavily as on any of your fellow gang members so it is important to take good care of your animal. By keeping it groomed and well-fed, you will start to see improvements in stamina, performance and handling and it will become less skittish as the bond grows between you. With 59 different styles of coat, and a huge range of customizable tack, including saddles, horns, stirrups, spurs, you can create a horse that is truly your own, and develop a personal and unique relationship as you explore the world together.

Buy, sell and store horses from Stables, or purchase provisions to keep your horse fed, tonics that give your horse temporary health and stamina boosts, and equipment like stirrups and saddles, which can improve your horse's performance. Or simply add style to your horse's mane, tail or otherwise.

Your bond with your horse represents trust and understanding. As your bond with your horse grows over time and through activities like feeding and grooming, your horse's attributes like its health and speed will improve. You will also unlock bonding perks and rewards.

Store weapons, outfits and hats in your horse's saddle. You can also stow fresh kills; birds and small game can be attached to the saddle or you can store larger game across your horse's rear.
Related Tags