BioWare wasn't set up for Mass Effect: Andromeda DLC
What happened to Mass Effect: Andromeda's ambitious DLC plans? BioWare's Mike Gamble explains.

Published Sun, Sep 9 2018 4:41 PM CDT
|
Updated Tue, Nov 3 2020 11:50 AM CST
Mass Effect: Andromeda was originally supposed to have DLC, but BioWare simply wasn't set up to support it for the long run--especially after having to give the game's visuals another pass.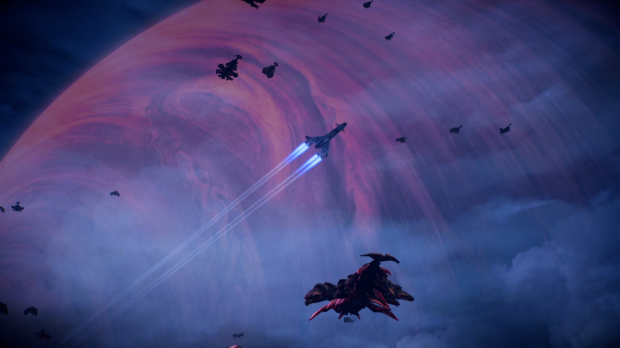 BioWare was quite busy when Mass Effect: Andromeda shipped. The studio had been working on its big new online multiplayer game Anthem in tandem with the Mass Effect spin-off, and ultimately the devs had to make a judgement call regarding extras like the Quarian Ark DLC. BioWare's Mike Gamble said as much in a recent interview with US Gamer, where he basically affirmed the studio simply didn't have the resources to support Mass Effect: Andromeda for the long term.
"I can speak conclusively when it comes to Andromeda, the [DLC] plans were never in place the way that they are for Anthem."
This makes a lot of sense considering Anthem is a live service game, and that the new IP is a huge investment for EA. Andromeda, which was once a big dream for BioWare with tons of content and ideas that were cut from the final game, appeared to be a kind of stop-gap between its last project and Anthem.
It also wasn't always connected to servers that allowed BioWare to easily roll out new systemic content like quests, characters, and various other tweaks. Patches had to be downloaded and installed manually.
It also didn't help that BioWare had to re-invest time into fixing Andromeda's widely mocked facial animations and visuals. The studio released various patches with new textures to improve the experience (which were admittedly quite immersion-breaking), which took time away from possible DLC plans. Thankfully BioWare is no longer using Andromeda's facial animation tech.
Read more: Mass Effect: Andromeda Review: Falling Stars
But this probably wouldn't have mattered because Gamble says Andromeda simply didn't have the tools or systems in place--which makes sense because BioWare was then using DICE's proprietary Frostbite engine to make the sci-fi action RPG and had to re-learn lots of tricks.
"The systems and tools weren't in place to support the long-term plans, it was never like [Anthem is]. We never had a good, solid foundation to start from with that. Where with Anthem [post-launch content] is a part of it. The job does not end on February 22. It only begins for us, really."
If Andromeda had a more live-based framework it could probably have seen some DLC to widen its story. This foreshadows to BioWare's recent statements on using live services as a new avenue for post-launch content in future Mass Effect and Dragon Age games. The idea is to use the online framework as a means of easily distributing content that's curated based on live stats and player feedback, versus manually crafting a story without player-driven expertise.
The studio is currently developing a new Dragon Age project that could end up being a big-budget sequel.
A new Mass Effect might be in the works, too.
Anthem will release on February 22, 2019 on PS4, Xbox One and PC, and BioWare has yet to announce its other projects.
Related Tags