NVIDIA has just released their latest Game Ready 398.82 drivers, which are Game Ready for GeForce graphics card owners for World of Warcraft: Battle of Azeroth which launches on August 14, and Monster World Hunter on August 9.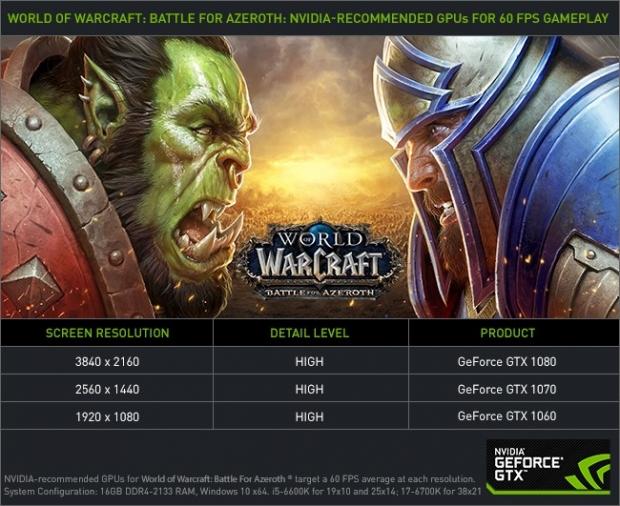 World of Warcraft: Battle for Azeroth is right around the corner, with NVIDIA recommending the GeForce GTX 1060 for 1080p 60FPS, the GTX 1070 for 1440p 60FPS and the GTX 1080 for 4K 60FPS. NVIDIA has benchmarks the game, where they've said: "If you like World of Warcraft, you like stats, so here's some: at 1920×1080, our benchmarking concluded with an average framerate of 65.4 on the GeForce GTX 1060, when paired with an i5-6600K. A minimum framerate of 53 was the lowest we saw, and the frametime plot was near-perfect, indicating performance was smooth and stable".
NVIDIA continues: "At 2560×1440, the GeForce GTX 1070 gave us a 65.6 FPS average, with a minimum of 52, and equally-smooth frametimes And at 4K, it's recommended that players step up to an i7 for a perfect 60 frames per second on a GeForce GTX 1080, with the occasional dip to 51 FPS".
You can grab the new NVIDIA Game Ready 398.82 drivers right here.