AMD sold more CPUs than Intel in July, a first since Nov 17
AMD continues smashing the CPU market, selling more CPUs than Intel in July 2018 - a first since November 2017.

Published Tue, Jul 31 2018 9:09 PM CDT
|
Updated Tue, Nov 3 2020 11:51 AM CST
AMD stock is performing well, Ryzen 2000 series CPUs are very popular, Intel is scurring from the mess of 10nm and re-releasing and continuously tweaking its 14nm++++++++ processors (I might have held my finger down on the + key a little long there, but not really)... all while AMD is making inroads into CPU sales against Chipzilla in 2018.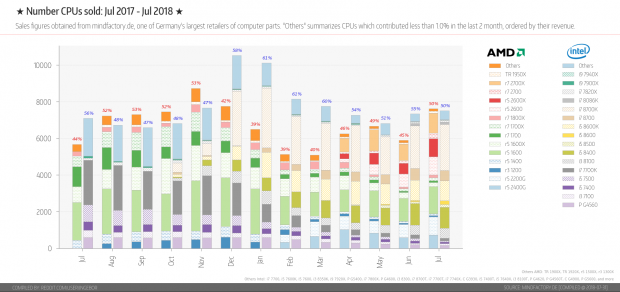 According to the latest data Mindfactory, AMD sold more CPUs than Intel in July 2018 - the first time since November 2017. As you can see things kicked off with the Ryzen 7 2700X and Ryzen 5 2600X in April, and then continued with the same sale strength through to July. Intel still sells boat loads of Core i7-8700K processors, but it's not enough to stop the Ryzen train.
The mid-range Ryzen 5 1600 sells incredibly well for AMD as well, the same goes for Intel's mid-range Core i5-8400. Both great mid-range options for tens of millions of gamers who are playing titles like Fortnite, PUBG, Overwatch, CS:GO, and plenty of other games at 1080p/1440p.
Related Tags